"Jigsaw Party" Events
Grand Master Jigsaw has a full calendar of events coming your way during his Hierarchy's Reign. More updates soon.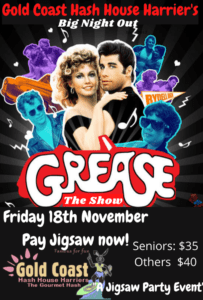 Grease!…Friday 18th November Time TBA                                                                             Spotlight Theatre…185 Ashmore Road BENOWA
The musical that brought the world to its knees is coming to Spotlight Theatre this November.                                                                                                                                           The students of Rydell High are ready to get their groove on like you've never seen it before.                                                                                                                                                  Join us for a terrific night out on Friday 18th November (subject to availability).  As the show will likely be booked out within days of bookings opening, we are calling for your booking and payment by July 22nd.  The price is $35 for Seniors/Pensioners or $40 for an Adult.  Please pay Jigsaw alias Julian van der Veer, BSB 062-144  Account 10037678 by July 22nd.  The date is tentative as bookings do not open until around that date.
An optional early dinner prior to the show at the Highland Court Chinese Restaurant will also be arranged.  Details to come later.
Book NOW! or you may miss out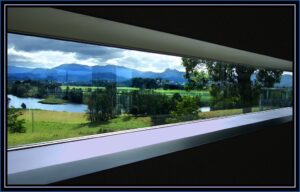 Day Trip to Tweed Regional Art Gallery and Mt Warning Hotel
9th October 2022.  Meet at Gallery by 10.30am
2 Mistral Road, Murwillumbah South then 1497 Kyogle Rd, Uki
Surrounded by beautiful gardens and lawns and offering panoramic views of the Tweed River, the Gallery and the prestigious Margaret Olley Art Centre is already a renowned tourist destination.                                                                                                                             If you haven't been there before this is a must see. Those that have will want to go again. Entry is free. After seeing the galleries enjoy a delicious treat from the Gallery Café as part of your visit. There's great coffee, tea and cakes to eat while you enjoy the amazing views.
Afterwards we take a short drive to Uki for a stroll and then lunch at Mt Warning Hotel.  Great menu and very reasonable prices.
Menu is at https://www.mountwarninghotel.com.au/_files/ugd/83d3e7_58ce7e316770464ba889da1b71a16537.pdf
Registrations are now open for this great day out with your hash friends.  Sign up on the hash website. Be early as we will book as a group.
Come one come all.  See you there.
Registrations are needed for a group booking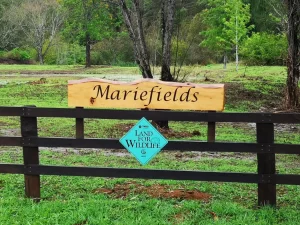 MAY BABIES 2023 at Mariefields
Friday 26 – Sat 27 – Sunday 28th May
Program in due course