THE 2013 PASSING OUT PARADE                                                                                                           They shall not fall over, as we that are leaving fell over Hierarchy posts shall not weary them, nor their runs compete At the going down of the down down and in the evenings We're just glad to be gone
 WE THE RETIREES
Grand Master             Bent Banana   Peter Robinson
Religious Advisor        Circumference   John Power
On Sec                          Rectum   Stephen Bottomley
Hash Cash                   Black Stump   Peter Bennett
Trail Master                Sir Rabbit          Peter Graham
Booze Master        Crocodile          David Cole
Booze Master           Rug            Tony Rogers
Hash Flash               Kwakka   Wayne Nolan
HERE BY PASS OUT TO
THE REINVENTED
Grand Master   Now Loved
Religious Advisor   Miscarriage
On Sec   Blue Card
Hash Cash   Blackstump
Trail Master   Ferret
Booze Master   Iceman
Booze Master   Show Pony
Hash Flash   Kwakka
THE 2013 HONOUR ROLL
| | | |
| --- | --- | --- |
| RUN OF THE YEAR | 1808 | Josephine |
| NOSH OF THE YEAR | 1831 | Kitchen Bitch |
| WORST RUN OF THE YEAR | 1848 | Cumsmoke |
| WORST NOSH OF THE YEAR | 1829 | Pizza |
| COMMITTEE MAN OF THE YEAR | | Rectum |
| SERIAL NUISANCE OF THE YEAR | | Flasher |
THE 2013 MILESTONES
100 RUNS
Rectum
Shat
Swollen Colon
Veteran
200 RUNS
Caustic Crusader
Crocodile
Cumsmoke
500 RUNS
Flasher
Show Pony
1300 RUNS
Sir Slab
1500 RUNS
Sir Rabbit
GRAND MASTER'S REPORT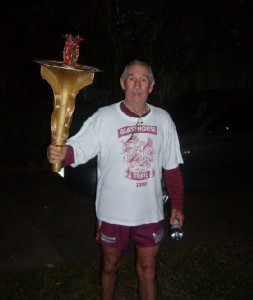 I was not even present at the last AGPU by still scored the top job, thanks to Josephine's continual winging to Shat about it being Bent Banana's turn to be GM. Anyway, it has been a pleasure and an honor to serve you lot of ageing athletes, short-cutters and geriatrics for the past 12 months. Ok, as well as a couple young guns!
The decisions and activities undertaken during my term were reached on a consensus basis and always in the best interests of hashers. In this regard I have been lucky to have had such good and experienced support teams who have served us all very well. My special thanks to your committee – Circumference for always putting his hand up for any odd jobs and his weekly disbursal of punishment to you unworthy lot; Blackstump who made sure all weekly dues were paid and that noone ripped off HASH for unsatisfactory food provided;
Rectum for his endless wit and humor in his lengthy weekly reports; the booze brothers Croc & Rug for providing excellent services to a sometimes unappreciative mob of wingers; Kwakka for his enthusiasm which saw him quickly develop into professional photography; and Sir Rabbit for all the behind-the-scenes activities that comes with the job and for stepping in to provide a run or the nosh when others were unable to do so.
My special thanks also to several others who have made our life as hashers more enjoyable and easier: Sir Slab for his behind -the -scene activities; Sir Prince and KB for their many contributions to keeping the "gourmet" in the Hash name; and to Botcho for his weekly efforts with the web page. I also appreciate the beer sponsored by Pizza during the year, in particular my favorite – the "black" brew.
I think that it is fantastic that we can gather each Monday and continue to indulge in mild or strenuous exercise and my wish is that we can all continue to do so long into the future. The transition of many hashers into cycling is also a logical development as its not so hard on the old bones and adds another dimension to fitness and hopefully longevity.
There have been many memorable runs during the past year, with several sharp witted and over-the-top personalities always ensuring that great camaraderie and humor occurred each week – Miscarriage, Caustic, Cumsmoke and Pizza, among others. The great thing about hashers is their spontaneity and their willingness to laugh at themselves.
If we cannot laugh at ourselves we have joined the wrong club. During the past year, who can forget Head Job's "caber" carrying run followed by a Sounds of Silence dinner at the Spit and the introduction of that son of an ugly camel, Mohammad Bin Flash-her; KB's great new-countryside location run when the heavens opened and washed out the complete trail, followed by a grand meal and entertainment at his mountain resort;
or the Sirs' runs, where there was always an excellent run set by Sir Slab, followed by more than adequate and varied dishes of Sir Prince's Asian concoctions; and Botcho's Lost-on-the-Helensvale-golf-course Run and nosh from the pizza oven, to mention a few.
I hope you enjoy reading this 2013 edition from the Gourmet Hash team. Thank you all for your support during the year and my congratulations to the new GM Now Loved and his committee, who I know will serve you very well.
On On
Bent Banana
Ex GM
RELIGIOUS ADVISOR'S REPORT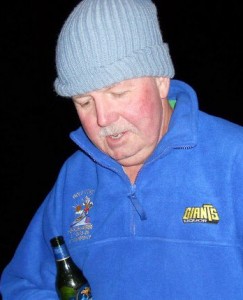 Leadership, teamwork and mateship made sure I had an enjoyable time during the reign of the Banana Party if that is possible being a hash committee member. As they say time flies when you are having fun and during the last 12 months of hashing there have been many good times. Even though as RA , I couldn't control the weather for 25 % of the year as the big boss RA called the shots. In fact between Shat's run on MacIntosh Island in January 2013 and Cum Smoke's Easter Monday effort at Broadbeach, there were 11 Mondays in a row where we it rained at some stage of the Monday evening.
That son-of-a bitch ex cyclone Oswald really hit us for six around Australia Day and bearing in mind that Oswald's namesake had taken our JFK in 1963, we decided that we should be calling the shots and not Oswald firing them at us. As RA, I had no powers to match the efforts of Oswald to completely stuff up the hash event that had been planned for that day. However the postponed event went ahead at a later date and by then no one even remember the name of that son-of-a bitch.
After a couple of weeks as RA, I realised there was no need to prepare for circle as ad lib was the way to go with so many Chinese whispers from hashers keen to dob in their fellow mates every week. The More Joyous Bar at the Manly Sea Eagles Football Club has nothing on the hash grapevine especially when alcohol is added because it certainly accelerates the loose lips who convey the material that comes the RA's way.
And as most hashers on the piss have a better memory it would seem than some sporting celebrities, they knew who was off at hash and deserved a nomination for the circle.
I found it absolutely amazing how some hasher's behaviour got them into the shit in the circle during the year. Admittedly a lot of the charges were beat ups but hell it is hash and no hasher let's the truth get in the way of a good story when a down down is on offer.
We have observed photographic evidence of a hasher cum- Jew fraternising with a Nazi type hasher and live action from a hasher-cum Muslim terrorist as the police drove past and because they thought of all the paperwork they chose not to get involved.. Another hasher with pyrotechnic maniac tendencies would often light up the circle with his explosions in quite suburban neighbourhoods. As they say in hash,
it's a different route each week and just as well we moved on from some each week before someone got shirty about their NIMBY neighbourhood becoming the occupy movements' / mobile kitchen on a Monday night where hashers ate in parks,on footpaths and in hash first in a shithouse.
That brings us to another area where hashers cum -would be My Kitchen Rules junkies came out of the kitchen , so to speak each week . One or two in particular and their helpers did a wonderful job feeding us and while there was often some bitching in the kitchen, as happens in most hospitality establishments, it was all good fun. There have been visiting hashers who say they had their best nosh ever while visiting us so they must have been doing a good job.
Humour and charges were encouraged and one of our hashers would often keep us amused by telling a joke over several nights, which kept us "ice frozen" in the moment as we awaited the final instalment a week later when he remembered the conclusion.
But by far, the biggest leaks from hashers to the RA was about the Cadel Evans would be hashers who started dropping like flies off their bicycles whilst on their cross-training tour de farces. Week after week it would be reported that a hasher had been dropped like a bag of spuds and in most cases had lost a far bit of bark to his body, pride and ego. Some of our more adventurous hashers even rode their bicycles offshore.
Rumour has it that some of them were on a bike both by day and night, so to speak, but some of that information fell into to the what goes on tour stays on tour category and the RA for the sake of not knowing what was a rumour and what was tumours let a few of them go through to the keeper.
The GC Bulletin was also a useful tool for the RA to obtain celebrity gossip on certain hash high flyers who just love a photo shoot whether it be about protesting to Save Our Spit or showing off his new boat. The after parties after splinter lunches often were the origin of many good stories that were relayed back to the RA. Hashers found asleep in various places and their loved ones anxious about their whereabouts were a regular item and there's one thing that's for certain in today's social media frenzy, the camera does not lie.
 As we move onto the next committee, the rumour mill is already starting off a certain hasher as he dabbles with 21st Century politics. As we can see in the weekly circle in our hash, the material just keeps evolving week in week out and no doubt the incoming RA will have plenty of material for the circle in the future. After all the RA's role in hashing is not necessarily about pissing off hashers off so much in the circle that you never see them again, but encouraging good fun and mateship and if takes a little ice , then so be it , so harden up and take your medicine.
On On
Circumference
HASH CASH'S REPORT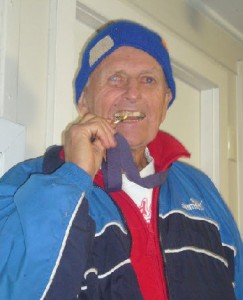 This last year as Hash Cash has been uneventful as Hashers are accustomed to my ranting and raving to extort a measly $15.00 out of them each week for a gourmet 3 course meal. We had one free night, one night with free grog and a third with two free beers.
The highlight of the year would have to be Shat, trying to pass off a counterfeit green $100.00 note in the dark for a blue $10.00 note.
Two Dogs must soon be running out of fresh, crisp $50.00 notes as its been 2 years now – that's over 100 he's printed.
Following is the audit of the GCH3 books as presented at the final Hierarchy Meeting and approved for circulation.
12*2=9.5       3+3=4   11-7.5=22.8  61/22.3=83.55
On On (until 2015 at least)
Black Stump
BOOZE MASTER'S REPORT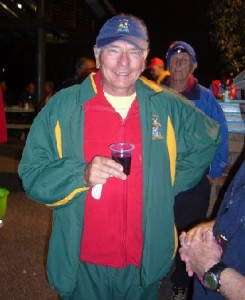 When Jigsaw called out our names at the 2012 AGPU, he kindly advised us that the Booze Master's job was "a piece of piss" especially with Both Crocodile and Rug being selected each other's able helper. Well it wasn't as simple as Jigsaw made out. Oh the task of tasting, selecting and buying the booze was very enjoyable thank you. Packing the Eskies and buying the ice
each Monday was a no-brainer. Packing the car and delivering the booze to locations all over the coast was a cinch.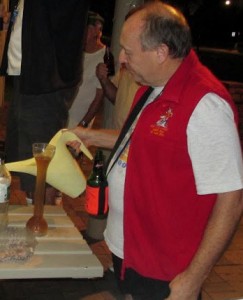 The hardest part of the exercise was dealing with a bunch of alcoholics, with predilections that they are athletes. After 12 months in the job all I can say is "So help me God, you guys are a bunch of ageing pisspots, who act like demented old woman !!!" Not only that, you're also a bunch of elderly winging bastards as well.
Every week came the complaints. The beer's too hot!! The beer's too cold!! Why don't you buy my favourite beer? I don't like that Merlot you buy!! I don't like that Shiraz you buy!! Why have we run out of Ginger Beer!! Where's all the VB gone? Why do you buy VB, it's shit beer!! Why don't you have any plates? Have you got my plate, I left it behind last week?
But despite these outcries, Rug and Crocodile worked furiously every week to satisfy your every need and whim and we must say we succeeded. Why do we say this you ask?
Well you may not believe what we say but the accountants figures don't lie. Have look at these statistics for the year and you'll understand why we succeeded.
Total amount spent on buying beer

$

6,674.95

Total amount spent buying wine

$

3,289.63

Total amount spent buying soft drinks

$

716.75

Total amount spent buying ice

$

572.50

Total amount spent on cutlery/crockery

$

318.24

Total amount spent on incidentals

$

298.34

Total Amount Spent

$ 11,870.41

Total Bucket Proceeds

$

6,109.76

Shortfall provide by Booze Masters

$

5,760.65
These figures have been audited by Black Stump and given his seal of approval, so no correspondence will be entered into. That's a hell of a lot of piss to taste, select, buy, pack, transport and stock-take each week, so we'd like to pat ourselves on the back for a job well done over the past year.
Now all that shit is out of the way, we must say that we both enjoyed our time on committee and the camaraderie of joining you all on most of the preceding 52 Monday nights. Our thanks to all and sundry who willingly helped carry Eskies and boxes to and from the car each week, which made our workload a little lighter.
While the bucket list may have been our priority each week, we also had a number of very successful non-Monday events which we catered for and which received warm accolades from all of you. The highlight of the year was the Cocktail Party at Flavours on Ferry, which allowed our better halves to doll-up and enjoy a great night out.
 We must also add that we only ran out of beer on two occasions, both being when Rug and Crocodile were absent on other duties, so we think that says a lot for our capabilities.
To our incoming replacements, we offer these words of wisdom, buy the beer and wine that you enjoy drinking, ignore the complaints and make the most of it as that makes the time fly faster.
We both look forward to a quiet retirement and the ability to sit down and enjoy a beer or two after our Monday evening sojourns with a few good mates.
My sincere thanks to the rest of our great 2013 Hierarchy, a big thanks for filling in when needed. We've had a great year and really enjoyed our time serving such a mob of ungrateful, complaining old codgers.
On On
Crocodile / Rug
TRAIL MASTER'S REPORT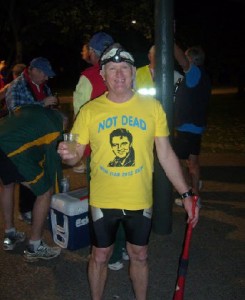 Somewhere along the line I mentioned to Past Trailmaster "Veteran" that the only official position on Hash I never did was the Trailmaster. Guess what job I got at the AGPU?
 With no substantial Hareline in place, getting one up and running was the most difficult part of the job. Some of the excuses for not wanting a particular date words cannot describe. Eventually after heaps of emails and re arrangements we finally had a workable Hairline. Due to the amount of wet Mondays encountered on the Hash year we had a lot of re-arrangements and at least one or two cancellations.
One die hard Hashman frowned upon any form of cancellation and set his own run much to the disgust of the GM, no need to mention names here. Finally Caustic managed to squeeze in his bush run in the never never with the aid of Ice Man. Fortunately the rain held off thanks to the great work of the RA.
There has been a lot of grizzling in the ranks on the AGPU date being brought forward. You can blame me for that, as it is My 40th Wedding Anniversary early June as it is always around the AGPU time. This time I had the power to re schedule the AGPU to fit in with mine and other's plans. So as you lick your wounds after the big night I will be off to the Hunter Valley for some quality time with the Bride of 4 decades.
Having married the Publican's Daughter I though it only is fitting to visit some wineries to show Her how piss is made. By the way, it is also the ex Publican's 60th Wedding Anniversary on the same day so big celebrations coming up for them as well, letters from the Queen, that Gillard bitch and other more prominent members as well. The date chosen also fits in with Blackie's busy Triathlon itinerary, Circumference's international tours, and Bent Banana's ocean voyages as well.
The new trailmaster has come from years of experience as a world travelling ambassador and will find the job rewarding and sometimes challenging to His current life of leisure. As part of a reward to the new trailmaster, there is a workable hareline in place covering some important dates for some such as Birthday runs, high tides full moons, no moons, joint runs, wife's headaches etc. if it ever makes it onto the web page?
By the way "Elvis is eager to set another Tee Shirt run provided it doesn't clash with His World Soccer Tour. Hopefully the garments issued at the AGPU will fit properly as they were chosen carefully by an experienced ex tailor in the world of Men's clothing. I haven't mentioned the quality of the runs and associated nosh's, as this will show up in the Awards presentations. Who said the Trailmaster does nothing?
The 1500th run silver trophy now takes pride of place on the bar next to the Holy Grail. I have noticed that the new trail master has already fucked off from his duties so best of luck in the forthcoming hash year.
On On
Sir 1500 Rabbit
ON SEC'S REPORT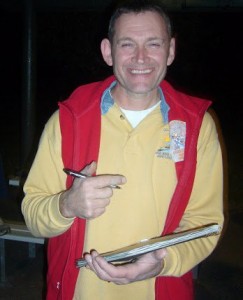 Well it's had its ups and downs, but overall an enjoyable year, okay I upset a few of you, suck it in, in the main we were able to laugh at ourselves but more importantly at each other.
 The food scoring was based on a combination of peer group and personal opinion, the run score was based on such factors as – new territory, length of run, variety of surfaces and quality of markings. Unfortunately your biased comments at circle were completely disregarded.
To save your time and eyes I have listed the last twelve months worth of runs below with the comments in 25 words or less. You're welcome. You can always read the full reports off the web page.
On On
Rectum
Run 1806 – Botcho – Helensvale
First run of the year, Cum Smoke bagged the food, run cut short by Flasher, chicken Botchiatore, no POW Food – Good, Run 6
Run 1807 – Jigsaw – Ashmore
Strange trail markings, not many of us, cold night, dutch food, Pow Two Dogs, Rectum admonished, Cum Smokes hash show bag
Food – unusual, Run 6
Run 1808 – Josephine – Parkwood
Run of the Year
Cloud cover, great use of the area, rabbits lamb curry, GM introduced himself, visitors shredder, Testicles, food budget officially $120
Food – Good, Run 9.5
Run 1809 – Rainbow – Helenvale
35 turned up to see off Rainbow, trail a bit iffy, complex food ordering at the tavern, POW held over Food – outsourced, Run 6
Run 1810 – Latrine – Labrador
Runner up worst run of the year
Run began on a bus, ended up at the Grand, two different meals both good, visitor Magician, Veteran POW Food – Good, Run 3
Run 1811 – Two Dogs – Paradise Point
Well marked, Gavin did the cooking, Phantom visited, no POW, two pet shop jokes Food – no dessert, Run 8.5
Run 1812 – Sir Ah – Mudgeraba
High in the hills, Jigsaw and Josephine two laps, good curry, GM given vagina whistle, no POW Food – Good, Run 7
Run 1813 – Shat – Budds Beach
Olympic torch and blow up doll relay, practically outsourced food and run, funny circle watched by neighbor
 Food – Good, Run 6
Run 1814 – Flatulence – Paradise Point
Good effort by Flatulence returning from hols,
Food – strange, Run 6
Run 1815 – Moonbeams – Cascade Gardens
Beer vouchers on the trail, Moonbeams fell off his bike, port at the drink stop, not very specials food, Caustic threatened Cum Smoke, visitors Arse Up, Phantom, RA gynecologist joke, no POW
Food – outsourced, Run 6.5
Run 1816 – Sir Slab/Prince – Robina
Big numbers, well marked boring run, boat loads of good food, visitor Dicky Knee, Nazi boys gassed on the microwave, Truck Tyres POW, Croc 200 runs
Food – Good, Run 7
Run 1817 – Old Fart – Pacific Pines
Long trail well laid, day after Murwillumbah bike ride, hilarious circle, Two Dogs back, Joke of the year by Rug (Mr Bourshine), Caustic POW
Food – Good, Run 8
Run 1818 – Ferret – Miami
Rehash of another hash run, large catering team, circle before food, food interrupted circle so no POW jokes etc
Food – Good, Run 6
Run 1819 – Carefree – Main Beach
First and last ever Carefree run, up the spit and back, Flasher and Miscarriage lost, Voted best walk, Slab 1300 runs, Flasher POW
Food – outsourced, Run 6
Run 1820 – Veteran – Labrador
Pile Driver six runs in a row, good trail but Labrador, Visitors Hemorrhoids and Dicky Knee, jokes by Iceman and Testicles, Rectum POW
Food – ok, Run 6
Run 1821 – Truck Tyres – Burleigh
Great trail markings, good use of boardwalks, Chips, noodle soup, beef provencale and Grand Marnier doused dessert, joke by Iceman, Shat POW
Food – Very Good, Run 9
Run 1822 – Committee – Bundall
October Fest run from Pizzas, free guinness barrel by Pizza, german food by the committee, funny circle Food – Very Good, Run 7
Run 1823 – Committee – Jacobs Well
Joint run with Brisbane southside, run through the cane fields, amusing Brisbane circle with their RA and Baron von Layup, food poor from pub
Food – outsourced, Run 5
Run 1824 – Committee – Main Beach
V8 handicap by Two Dogs, food very good steak sangers, cold night, Show Pony 500 runs, Bridget Bardot joke by Iceman, Flasher POW
Food – Very Good, Run n/a
 Run 1825 – Elvis/Cum Smoke – Parkwood
A surprisingly good run by Cum Smoke, circle before food, visitor Bouncer, the end of birthday beers, Two Dogs POW, Cum Smoke 200 runs
Food – outsourced, Run 7
Run 1826 – Swollen Colon – Labrador
Runner up worst food of the year
Only run with a swim leg, Latrine and Rectum only finishers, gruel with mushy pasta, Aussie hair cut during splinter lunch, Flasher POW
Food – poor, Run 6
Run 1827 – Botcho – Helensvale
Runner up run of the year
Great trail spoiled only by Flasher getting us lost at the start, yummy Moroccan chicken, Vietnam bikers returned, VD POW
Food – Very Good, Run 9
Run 1828 – Sir Slab/Prince – Robina
A completely different run and much better, plenty of food and preparers as usual, visitors tom, Hollywood and Swindler, Kwakka POW
Food – Good, Run 8
Run 1829 – Pizza – Bundall
Worst food of the year
Poor trail, food you wouldn't serve to your dog, many visitors, Blue Card POW,
Food – bad, Run 5
Run 1830 – VD – Burleigh
Questionable trail, great schnitzel burgers, visitor platypus, Botcho POW, catholic joke by Iceman Food – Good, Run 6
Run 1831 – Kitchen Bitch – Currumbin
Food of the year
Great run ended early due to rain, Pizza emptied the beer en route to the house, Restaurant quality food, hilarious circle, Flasher POW
Food – Excellent, Run 7
Run 1832 – Head Job – Main Beach
First and only log run, Pizza supplied the beer, returners Platypus, Mother Brown, Circumference POW Food – Good, Run 7
Run 1833 – Committee – Surfers Paradise
Christmas run
Food – n/a, Run n/a
Run 1834 – Christmas Eve – Cancelled
Run 1835 – Circumference – Burleigh
 New Years Eve run with wives
Food – n/a, Run n/a
Run 1836 – Show Pony – Hope Harbour
The only house boat run, very hot main meal, beautiful fruit platter, out of booze, Botcho POW Food – Good, Run 6
Run 1837 – Sir Slab/Prince – Robina
Bad weather, shortish run, Dim Sims of course, out of beer, the Burkha emerged, Booze masters POW, poor joke by Hard On
Food – Very Good, Run 7
Run 1838 – Shat/Veteran – Surfers Paradise
Cold and wet run, trail hard to find, delicious beef salad from party left overs, returners shredder, jigsaw, swollen colon, Nasty POW
Food – Good, Run 6
Run 1839 – Bad weather – Cancelled
Run 1840 – Testicles – Southport
Runner up food of the year
Trail same as that from Thursday hash, top prawns and crownies by the GM, funny circle, superb food by Grand Canyon
Food – outsourced, Run 4
Run 1841 – Flasher – Helensvale
Runner up worst food of the year
Crazy length run that only Rectum completed, getting lost in the process, tasteless food, Caustic accused of nobbling the gas, inaugural shithouse run
Food – terrible, Run 4
Run 1842 – Caustic – Benowa
Runner up worst run of the year
Pissing it down, no run, no live hare, barmaid with great tits, strangely good food, Phantom back, joke by Croc, Sir Rabbit POW
Food – outsourced, Run 1
Run 1843 – Sir Rabbit – Chirn Park
Australia Day run, rain again, small run, visitor Aussie, Rock Hard POW after falling Food – ok, Run 6
Run 1844 – Two Dogs – Paradise Point
Almost everyone ran! Veteran and Caustic lost, good burgers and trifle, visitor – Bouncer, Gob Smacked named never seen since, groany joke by Iceman, Veteran POW
Food – Good, Run 8
Run 1845 – Moonbeams – Cascade Gardens
Predictable run, short on food, 2 kiwi visitors, Viagra joke by KB, Rectum power crazed RA, Elvis stayed all night, no POW
Food – average, Run 5
Run 1846 – Miscarriage – Surfers Paradise
 St Patrick's Day run, no run, good pub food, very funny circle, Sir Prince many DD's thanks to Miscarriage, Link injured on bike,
Food – outsourced, Run n/a
Run 1847 – Sir AH – Mudgeraba
Run good but too long, venue impossible to find, Miscarriage POW, Stand in committee, many DD's Food – Good, Run 7
Run 1848 – Cum Smoke – Broadbeach
Worst run of the year
Wrong venue, trail on paper hand outs, many lost, too short, not the worst food ever, Cum Smoke POW Food – ok, Run 1
Run 1849 – Sir Rabbit – Chirn Park
Rock Hard MIA so the sirs took over, monster chilli con carne, Now Loved POW, Ice man funny St Peter joke
Food – Good, Run 8
Run 1850 – Ferret – Robina
Good effort on the trail, food questionable, old English trash, good walk, Swollen Colon visited, Iceman joke, Josephine POW
Food – average, Run 6
Run 1851 – Caustic/Iceman – Mudgeraba
Runner up food of the year
Good trail in virgin territory but all on dirt, nice use of trailer and brazier, chicken curry superb, returner Arse Up, broken chair by Now Loved, Rectum POW
Food – Very Good, Run 8
Run 1852 – Committee – Currumbin
Prelube for the Brisbane Nash Hash, small run, tasty steak sangers, Shat POW, 3 jokes by a visitor, enjoyable circle
Food – Good, Run 6
Run 1853 – Jigsaw – Benowa
Another howler of a trail including locked gates and fencing, great dips but unusual main, funny circle, Miscarriage POW
Food – ok, Run 4
Run 1854 – Committee – Nerang
Sewerage and others commemorative run, wet again, fitting ceremony, great food by the committee, Caustic stand in GM, Rabbit 1500 runs, Josephine POW
Food – Very Good, Run 5
Run 1855 – Swindler – Chevron Island
Cast of thousands, shocker of a trail, one of the best circles all year, Swindler trying hard with everything, Slug POW
Food – Very Good, Run 3
HASH FLASH'S REPORT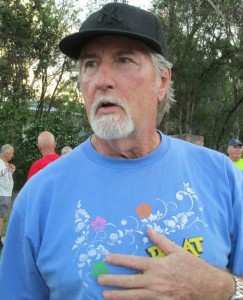 Having been sucked into the "Call for Nominations" just prior to the last AGPU, I thought I'd do the right thing and put my hand up for a job on the next committee. I put a call in to Botcho and advised him of my intentions. He listened quietly and said "Mmmmm, leave it with me I'll see what I can do".
 The following Monday night I was called into the circle whereby Botcho asked what committee job I was after. When I replied "Moon Beam's job" and gave the circle my rendition of "End Of Circle", every one cracked up. "What about me", Moonbeams cried. I was
quickly advised that the position was unlikely to be on offer.
I think that's when the outgoing committee couldn't let a chance go by and created the new Hierarchy position of Hash Flash.
My Hash Flash duties got off to a shaky start when I was handed a camera which had been previously owned by Flasher. Flasher kept assuring me it was a great camera, but I found out later it was almost old enough to vote.
When I started getting complaints about the quality of the shots I was taking….. not focused, too dark, I took the camera to the experts and it was as I suspected, just about stuffed!
Our understanding and generous committee immediately provided a modest budget of $150 to buy a new one.
A special thanks to Swindler, Blue Card and Hard On for standing in for me in my absence on occasions, You'se all done good.
Big thanks to the rest of the committee for a great year, it's been fun. I've enjoyed it so much that I have offered my services as Hash Flash again this year.
On On……Kwakka
THE YEAR THAT WAS
Glad that's Over
On On
Crocodile
Many thanks to all those Hashers who stepped forward throughout the year, to help in times of need, cleaning tables, carrying Eskies, packing and unpacking the trailer, assisting with cooking, serving and washing up, trailer towing and storage and maintenance. It made all our jobs easier and helped the GCH3 have a memorable 2012/2013.
A special word or appreciation and thanks to our Internet Wizard and Webmaster Extraordinaire Botcho for doing such a magnificent job in keeping us all informed via the Ethernet.