Gold Coast Hash House Harriers Hareline
Help needed!!  I can't set my run…
Organise a replacement and advise Trail  Master, Bent Banana asap
You could be the hare next week!…Search Your Hash Name
| Date | Run Number | Hare | Theme |
| --- | --- | --- | --- |
| December 4 2023 | 2380 | Rug | |
| December 11 2023 | 2381 | Magician | |
| December 18 2023 | 2382 | Hierarchy | Christmas Run |
| December 25 2023 | 2383 | No Run | Christmas Day |
| January 1 2024 | 2384 | Iceman | New Years Day |
| January 8 2024 | 2385 | Maggs | |
| January 15 2024 | 2386 | Shat | Birthday Boy |
| January 22 2024 | 2387 | Latrine | Pig Night Out |
| January 29 2024 | 2388 | Sir Botcho | My departure Run. Gourmet Nosh |
| February 5 2024 | 2389 | Bent Banana | Birthday Boy |
| February 12 2024 | 2390 | Blue Card | |
| February 19 2024 | 2391 | Caustic Crusader | Birthday Boy |
| February 26 2024 | 2392 | Sir Prince | Birthday Boy |
| March 4 2024 | 2393 | | |
| March 11 2024 | 2394 | | |
| March 18 2024 | 2395 | | |
| March 25 2024 | 2396 | | |
| April 1 2024 | 2397 | | |
| April 8 2024 | 2398 | | |
| April 15 2024 | 2399 | | |
| April 22 2024 | 2400 | Hierarchy | Big Celebration Run |
| April 29 2024 | 2401 | | |
| May 6 2024 | 2402 | | |
| May 6 2024 | 2403 | | |
| May 13 2024 | 2404 | | |
| May 20 2024 | 2405 | | |
| May 27 2024 | 2406 | | |
| June 3 2024 | 2407 | | |
| June 10 2024 | 2408 | | |
| June 17 2024 | 2409 | | |
| June 24 2024 | 2410 | Hierarchy | AGPU |
| | | | |
| | | | |
If you need assistance when you're the hare ! Ask a hash mate to give you a hand.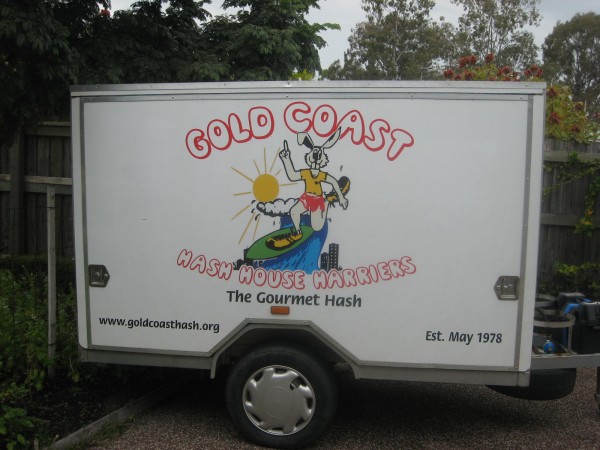 Hares!! Do you need the Hash Trailer?
If you require the trailer, then it is up to you to contact the Hierarchy at least 2 weeks prior to organise access. It will be your responsibility to organise transport to and from the trailer site.