Gentlemen,
Plan A, the Cricket match is cancelled
Plan B, the Live Hare Run is cancelled
Plan C, the Piss Up at Sir Rabbit's bar is cancelled.
In keeping with Emergency Services directives to stay indoors and off the roads i.e. not to go out unless absolutely necessary, all hashing activities for today are unfortunately cancelled.

 
Sorry about that but I am sure Mrs. Rabbit will be happy. 
My diet for the remainder of the week will now include lamingtons and pavlovas!
No need to blame our RA as it turns out the power of prayer worked after all. It was just that there
were many many more praying for rain lately than our lone RA opposing rain.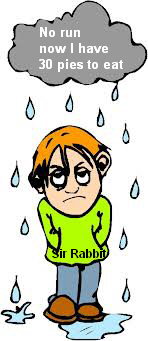 Grand Master