Run 1857
Date    :    3rd June.2013
Hare    :    Missing Link
Venue    :   Broadbeach
Runners : 26
The Week That Was!
The Splinter Lunch at the Latin Quarter, Broadbeach proved to be the normal circus. Organised by Swindler and Nasty jointly, although rumour has it Swindler did all the work, having to have a practice run the Friday before with a few other desperates while Nasty was busy attending to the Nasty Party who have registered to make a run at the next election. Apparently Tom Waterhouse is giving very long odds for anyone wanting to back the Nasty Party.
A crowd of about 20 included the appearance of Fucks Off, the past business partner of Hard On . There was discussion of giving him a new name Period as he only regularly turns up once a month.
The Ex GM BB apparently enjoyed himself as he did not return home Friday night and was discovered sleeping in the hedge in the front yard of his daughters house at 9am Saturday morning. Also worthy of a mention, the 2 desparates below who arrived home at 9.30pm after doing a pub crawl from Broadbeach to Chevron Island. They thought they would quietly enter the residence of Kwakka for a last drink!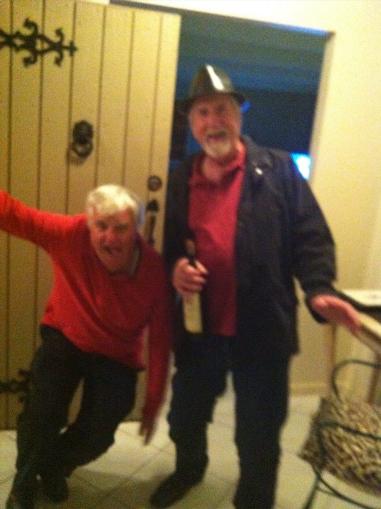 On to the run last Monday night at the park on Bermuda St (Cnr Fremar St), Broadbeach Waters. About 26 hardy souls with 8 gentlemen walkers and 18 runners. Link advised that the walkers could go whichever way they felt like and the runners should go off and follow the clearly marked trail.
The new GM Now Loved headed up the circle and was well prepared with a lot of briefing notes. Although having well prepared notes he welcomed everyone to run number?? and then didn't know the number. Good start!
So as to alienate the old hierarchy he called them out for a Down Down but there were complaints "they should be iced".
The Hare, Link was called out. Flasher awarded him 7 out of 10 for the best run of the year while Two Dogs gave him 1.5 out of 10 for the worst run of the year. So being a fair crowd they averaged and awarded 4.25 on the voices.
Pile Driver was asked to comment on the meal and said it was good but gave a less than generous score of 5. Nasty giving a second opinion said the entrée was very light as was the dessert, however gave top marks to the beef curry with a large array of condiments and side dishes.
A few returners this week, Nasty is going to Christmas Island to give a quote to install the saunas and gymnasiums for the boat people. Head Job has just returned from working on the island and gave a long discourse about working on the island but really said nothing. He did own up to getting lost on a Hash run on Christmas Island not withstanding he had a large Hash cow bell around his neck. He said if you turn left instead of turning right even on a little island you can get lost.
Next it was the new RA, Miscarriage to take the stage and although he is a shy and retiring type he managed to entertain the troops with gusto.
All Sir's got a Down Down out of respect for Sir Rabbit who was not in attendance. Show Pony managed to have his new Hash shorts on backwards. As a sign of total disrespect the RA called out the new GM for a Down Down for a recent frontal lobotomy operation to dull down his mental capacity so that he could continue in the fine tradition of a GM. Dangerous stuff!
Flasher was awarded the trophy for 'Worst Nosh Of The Year' last year as a temporary stand in and second place getter for the winner, Pizza, who was not in attendance.
Sir Slab presented an expensive set of free road maps and brochures that he had collected on his trip as a special gift to the new GM.
And just to prove that no good turn goes unpunished, yours truly the Hon Sec after providing a box of crownies as a birthday boy was given 2 Down Downs during the night and the POW for absolutely no good reason. So much for the suggestion from the new GM that the hierarchy does not get given Down Downs or the POW…yeah right! See you next week.
Blue Card
………………………………………
POVERTY IN AMERICA…….
Will Australia fall into decline also?