Run 1858
Date : 10th June.2013
Hare : Rug
Venue : Arundel
Runners : 18
The Week That Was!
About 18 hardy Hashers turned up for the run braving the wet weather. It seems the others preferred to sit at home and vegetate with their ugg boots on watching TV.
The beer supplies had to be forded across the creek to the rotunda in the park. Rectum came to the rescue with a bailey bridge to help with fording the creek. Kwakka, Blue Card and Botcho kindly agreed to forego exercise and guard the beer supplies.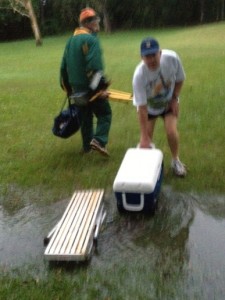 10 runners set off and 3 walkers wandered off into the gloom and had no idea where they were going.
Sir Prince turned up late having driven around the park and Allied Drive for 15 minutes trying to find the start of the run.
After starting off late Sir Prince caught up with Swindler, still walking after 700m and when asked which way to go. Swindler pointed 180 degrees in the wrong direction and said "well the rotunda is that way".
In the absence of the GM who has now been missing for 50% of the meetings this year, the Acting GM Miscarriage took centre stage at the circle. He advised that he noticed everybody was getting on in years and was concerned about Alzheimer's setting in and one way to counteract that was to shake things up and do things in a different way.
Staying with that theme he then started the circle with the POW which left Blue Card floundering a bit as he was planning on 15 minutes of the circle to find a few possible contenders.
Blue Card called out a few shortlisted suspects for the POW – Swindler for failing 2 weeks in a row to honour the tradition of a carton of crownies for his birthday, Flasher for being reported in a half page article in the Gold Coast Bulletin for his new invention which sniffs out drugs and all sorts of questionable odours and smells in a rental property. But the award was finally given by a close margin to Show Pony, who was the neighbour of a house boat in which the elderly gentlemen had been murdered 18 months ago and apparently his body has turned up under Show Pony's houseboat. There is now some reason why he has been catching more mud crabs than anybody else in the marina. Good to see they have a close knit community where they all look after each other.
The RA/Acting GM had previously advised by email that he would be selecting at random an acting RA as he was the Acting GM. He then proceeded to repeat what was about to happen, that we should all be mentally prepared. He then selected Swindler as the Acting RA and Swindler obviously in the early stages of Alzheimer's, thought that he had been elected as Acting GM and went on some kind of a manic rant until it was pointed out to him that no such important task would ever be entrusted to him and he was the Acting RA.
Swindler then selected a couple of people for Down Downs – including one to Kwakka for being on last year's hierarchy and coming back for a second term – no shame, and Link for being one of the "Wednesday Wankers" in the lycra bike riding outfits. He reportedly, has now applied to be in the Wednesday Warriors who ride at a more sedate pace on hybrid bikes rather than those high end carbon fibre missiles.
Apparently the entry to the Wednesday Warriors is to sing a war cry in the middle of the coffee shop after a ride.
Sir Prince brought a charge from the floor. He arrived late, couldn't find the place. He called Sir Rabbit's phone to get the address. Couldn't get a hold of him so sent a text to Rugs number, no answer telephoned Veteran and was told to call Blackstump. After calling Blackstump who was in 1770 he said to try Circumference who didn't answer the phone. So he only thought it fair that Circumference get a Down Down as he was responsible for the online next run announcement which apparently was not working properly.
Sir Prince then regaled us with a tale relating to his position as a board member of the Anglican All Saints School. Apparently one of the parents, aka Miscarriage, had written a long letter as to why his daughter should be released a week early from school so that she could go to Cambodia with the family. Apparently our Acting GM had planned his holiday based on last year's school calendar!
It then transpired that there would be an unofficial meeting of Gold Coast Hashmen in Camdodia, all being there at the same time – Miscarriage, Rug, Swindler, Flasher and Slug. More Down Downs!
Iceman gave a report on the run, said it was a good run but a few of the marks had been washed out although Rug the Hare said he had re-layed it several times during the day. He was scored a 7.5.
Kwakka gave a report on the Nosh and quite rightly gave it a score of fantastic. Started with the prawn and avocado with a slice of lemon in a half avocado shell followed with by a Yorkshire pudding and beef stew or for the more sophisticated beef bourguignon and then homemade pear crumble with a decadent rich chocolate sauce. He scored an 8.5 and is the leading contender for the "Nosh of the Year".
Next week's run will no doubt be somewhere.
Blue Card

……………..Blue Card On Marriage…………….Love is Blind
This guy is Alvaro Alfonso de Miranda Neto: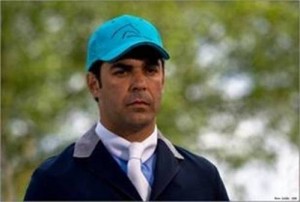 He was married to — this woman.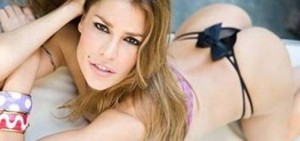 Her name is Cibele Dorsa.
She is a Brazilian swimsuit, Victoria 's Secret, and Playboy model.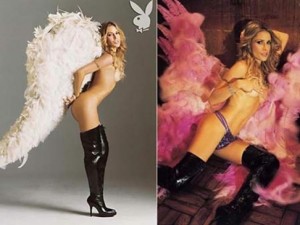 He divorced her because he fell in love with this woman: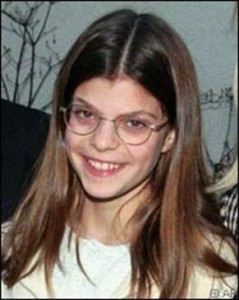 These two are very happily married right now.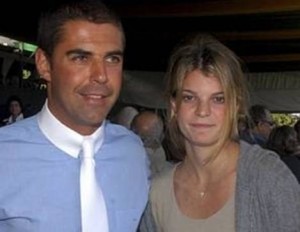 Some people argue that love is blind.
This story clearly proves it…
It proves that men are capable of real love; truly seeing
a personal inner beauty, not basing their decisions
solely on looks.
Oh, by the way…
the new girl is Athina Onassis.
She is worth 12 billion dollars.
Kinda brings a tear to the eye, doesn't it?