Run 1866
Date: 5/08/2013
Location: Ashmore
Hare: Sir Rabbit / Josephine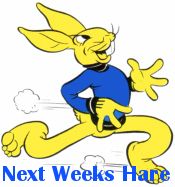 Hard On
Bent Banana update:
A good turnout with 26 hashes turning up.
About half walkers and half runners but from the observation of the walkers most of the so called runners seemed to be walking.
The RA Miscarriage once again took on the exalted roles of both acting GM and RA..Clearly bored after so many Circles following the same format every week that he once again decided to reverse the normal the normal order of business.
Showing no respect for editorial independence, first up he called out yours truly for referring to him in last weeks Words as being the self appointed GM and presented me with a DD. Seems to think he is Gina Rhineart and can influence the independence of the press.
VD had the pleasure of passing on the POW. He called out the Big Unit (BU) and explained how a woman living below knocked on BU's door to complain about the noise. Being not guilty he redirected the woman to Come Smokes unit. The woman was most shocked to discover the "noise" coming from Come Smokes unit was a loud audio track on a porn movie.
However in the absence of Come Smoke the award went to Truck Tyres who turned up for a bike ride with 2 flat tyres and has been nominated for a renaming to Flat Tyres.
Botcho aka Botulism got a DD for destroying the economy in the home country last week and causing more of his county men to migrate to OZ.
The RA/GM reminded us that the funeral for Useless was held during the week. He reminisced about how Useless had a broken relationship in Singapore, came down to the Gold Coast for a new life, and became engaged to a lovely lady. It appears she then met another Hasher and married him!  Come on down Sir AH!
Hares Josephine (the run) and Rabbit (the nosh)…..
BU described it as 1 of the best hash runs he has ever been on. Has done 3.
VD said it was OK but most runners seemed to be walking and only pretend runners.
Iceman said the Nosh was OK and he particularly liked the burnt rice taste near the bottom of the pot.
Miscarriage said he enjoyed the raisin toast which was a poor mans Naan and went particularly well with the chicken curry.
Graham a friend of Elvis got a DD for being a visitor. Welcome Graham hope you will come again.
Sir Prince and Sir Rabbit got a DD for reminding the RA about the time he "beached" the Fairlane on a parking island in the very same car park as we were standing. One Sir drinks all Sirs drink……  Come on down Sir AH.
Botcho said he had spoken to Pizza who reportedly misses us all and has been very busy writing the instruction manual on "Laying Bricks".
Next weeks run will be next Monday night somewhere.
That's the week that was.
Blue Cards Joke Of The Week
A Guy Walks Into A Bar
Just click here…http://www.youtube.com/watch?v=ub3Cm0V_Z8w