Run 1867
Date: 12/08/2013
Location: Surfers Paradise
Hare: Hard On
Runners:33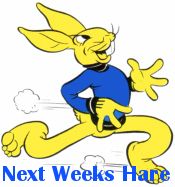 Black Stump
News Flash: Darwin Don takes Gold at World Master Games
The word was out Hard On as the virgin Hare. A big turn out with 33 hashers.
All gathered at Budds Beach on the banks of the river within walking distance of  la residence of the Hare Hard On and assistant Hares Shat living at Shat O and Kwakka from over the river.
Our esteemed Acting GM aka the RA aka Miscarriage called the circle up. Being a very fair and balanced acting GM volunteered to take a DD from his brand new GLOWING PURPLE sneakers size 22 that would have looked right at home on the Big Unit.
Speaking of Big Unit good to see the BU again particularly as he had a choice of watching porn at Cum Smokes love shack or coming to Hash. Just shows what a real desperate BU must be.
Botcho was called out and given a special thank you for setting up the mobile web site (click the link and save as a book mark on mobile smart phone. Never get lost again, trying to find the run location) and all the other web master magic. The Acting GM gave an undertaking that Botcho will not be given another DD this year. Well Botcho this sounds like " there will be no carbon tax" so we will see if Now Loved the "real GM " will honour the commitment.
Sir Slab received a DD for having a dead heat on his bike with a car in front that wouldn't get out of his way. But that's not all. Reportedly allegedly was out on a Hashers boat and suggested that 2 young females on board take there tops off up on the bow of the boat. Not illegal but one was a hashers daughter. Sir S totally denies the accusation and is claiming mistaken identity.
All  Sirs got to share a DD Sir Rabbit Sir AH Sir Slab and Sir Prince.
The Hare Hard On was called out and as a virgin Hare he remains intact as he out sourced the trail to Shat. To preserve his virgin Hare status he outsourced the Nosh to Mrs Hard On. To continue the theme he had 14 hashers cooking on the BBQ while he chatted over a large glass of red or two.
Two Dogs in an unkind moment described the run as debacle as he ended up running by himself. Veteran described it as an excellent run. Multiple circles and plenty of arrows. He considered Hard On an excellent manager who had recruited people smarter and more experienced than him to do the work and he could take all the glory. Management 101.
No score given so as scribe after a lot of thinking I have awarded 7.162.
Flasher, Flasher Flasher reported as a serial short cutter.
POW
Truck Tyres donned the uniform and after a bit of waffling passed the award to Two Dogs for leading the pack including him way off trail by taking them overseas to Chevron Island.
RETURNERS
Swindler, Arse Up, Bent Banana, Show Pony and Pile Driver – DD's
Miscarriage was offended to be called a Hobbit and called out a few other vertically challenged Hashers and then lined them up beside BU.
Ferret had a bitch about members not reading the Hare Line so for those who don't read the Hare Line. Read it here
See you next week for another Hash Dash.
Blue Card Joke Of The Week
Date Change For Clean Up Australia Day.Please adjust your diaries accordingly