Run 1903
Date:21/04/2014
Location: Hope Island
Hare: Circumference
Runners:28
Run Report from The Hash – "Stig"

A total of around 30 gathered at the waterside on Jabaru Island to be told by the Hare Circumference that the first check starts here, with 3 choices: the rocky trail out across the water, the sandy trail around the Island or the one back through the car park. Following a re introduction by SPV of Weekly's return to hashing, the hounds took off.
Bent Banana selected the rocks, assuming that this would be something interesting and different, with the run eventually completing a big loop and coming back home over the bridge.  Alas it was actually along the sandy cove, when Two Dogs called On On,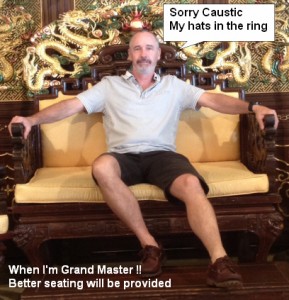 then it was up over the bridge and headed west, after the hounds previously refused to take the smell of chalk heading out over an inviting  boardwalk through mangroves.  It was then down the bridge and back under to the water for the next check.  The trail then headed South with Flasher in front followed by Rectum and Rug.
There was some regrouping as the pack continued south to the entrance of Crescent  Ave. The pack followed the street on both sides of the road, noticing small arrows on the opposite side, which the hounds refused to accept as anything belonging to our Hare. There were a few expletives coming from Rectum's mouth when, after about one km., the trail did in fact return back along the same street. This however did not deter Flasher who continued over the two arrows  pointing back and headed into the scrub alone, obviously looking for another root, following up on his luck  last week. Or maybe just hoping for a shortcut?
The trail lead west with a couple more checks, then crossed Broadwater Ave and circled the Marina Quays Tavern. This bought back fond memories of more interesting runs of the past, with food subsidized by Two Dogs. There was a check behind the tavern and choices were further west, north across the vacant blocks or east to home. Having failed on the first check Bent Banana got this (last) one right and it did head east, with a long and un eventual jog back up  Broadwater Ave. There was a bit of a challenge between returning runner Jim, Rectum, Miscarriage and Two Dogs to get to the bridge and home first.  Not a great run, but the location deserved a few extra brownie points.
STIG REPORT ENDS!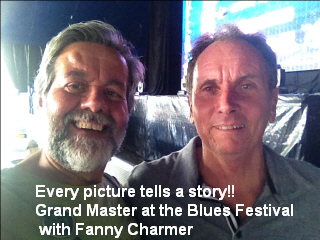 The GM was absent but not an unusual situation. He reportedly was seen in Byron Bay at the Bluing and Rooting Festival.
Sir Black Stump stood in as acting GM and kept one careful eye on proceedings.
When asked for a comment on the walk, Hard On said it was tortuous and enduring. Whatever the hell that means!
Prince Valliant said it was a very useful and educational run as he was given a full financial plan by Rock Hard on the run with an explanation of just how the share market works. Bent Banana threw in some advice and said forget the stock market unless you want to lose your shirt. For no real reason the run was given a 7 out of 10.
Circumference was the Nosh Master and had produced some tasty but sometimes slightly overcooked chicken on a stick and some 'crunchy' noodles for want of a better term. Flasher was asked for his opinion and he said he enjoyed the "road kill on a stick" as a very novel way to present chicken and the chewy noodles were a real surprise he gave it a 7.9 out of 10. The ever retiring wallflower Ballpoint and said if last week's run was pretty good according to the GM and that was the benchmark then this week's nosh was magnificent.
This week's returning runners included Weekly who has been missing for about 20 years after a stint in Rotary but has decided to come back to the more entertaining social life of Hash. Weekly fitted in like he had never left. A new face, Jimmy, said he had been missing as he wife had him tied up doing other things.
This bought a roar of approval from the crowd with visions of S & M and all sorts of strange goings on. Magician who has had a few runs with us has been down visiting us from his palace in Saigon aka Ho Chi Minh city where he has the role of a 'Handbag' with his partner who works 100 hours a week to keep him in the manner to which he has become accustomed.
The RA, as an opening duty, called out Ballpoint and made him sit on the ice as a penalty for being a serial whinger and insulting the 5 Sirs in the club who had prepared the magnificent meals of gourmet sausages last week.
Although the Sirs did not get off unscathed as Sir Rabbit was called out for having a problem with his sausage according to Ballpoint, and of course 1 Sir drinks – all Sirs drink.
Rock Hard got a mention for tipping Oz Minerals as a share which has now tanked. Although he commented it was better than VDM which at one stage went to $3.10 and with Sir Prince holding 1.6 million shares all was looking rosy for the Hash who were in for 10% on sale. Sir Prince, who when it comes to shares and real estate shares a Catholic church philosophy,  always wanting to buy but never wanting to sell, is now left holding 1.6 million shares with a similar value to ABC childcare centre shares.
The two flying experts in the club – Rug who knows where the MH370 is but if he told you would have to kill you and Flasher who only thinks he knows where it is and is more than happy to tell everybody got a drink for not informing Air Commodore Angus Houston, now in charge of the hunt for the missing plane.
Ballpoint joined the centre of the circle to give away the POW but said in light of all the stick he had received he thought it only fair that he carry it forward for another week. He was a bit surprised when he still had to take the yard glass because he had volunteered to keep it for another week, I don't imagine he is going to make that offer again.
Next week's run is from the old favourite, Cascade Gardens however the nosh promises to exceed the poor history of Cascade Garden's noshes as Fanny Charmer in association with his mother in law is providing a Spanish meal which includes Spanish fly for dessert.
END OF CIRCLE.
On On
Blue card
…………………………………………………………………………………………………………………………………………………….
A woman was in a coma. She had been in it for months
Nurses were in her room giving her a bed bath.
One of them was washing her private area and noticed that there was a slight response on the monitor whenever she touched her there.
They tried it again and sure enough, there was definite movement.
They went to her husband and explained what happened, telling him, 'As crazy as this sounds, maybe a little '0ral sex' will do the trick & bring her out of the coma.'
The husband was skeptical, but they assured him that they would close the curtains for privacy. The husband finally agreed and went into his wife's room.
After a few minutes the woman's monitor flat lined, no pulse, no heart rate. The nurses run back into the room. 'What happened!?' they cried.
The husband said, 'I'm not sure; maybe she choked.'