Run 1905
Date:5/05/2014
Location: Chevron Island
Hare: Swindler assisted by Shat assisted by Hard On assisted by Seedy assisted by Mrs Swindler assisted by Mrs Swindler's sister
Runners: 38
Run Report from The Hash – "Stig"

Swindler looked very concerned when facing the hounds around 6 PM as there was no sign of the hares. They apparently had been gone 3 hours. Hey it must be great to have 2 others do your run and on this occasion there were at least 3 others spotted later working in the kitchen. When Swindler makes GM, there will be no doubting his organisation abilities. Just like magic Shat and Hard On appeared at 6:15 pm, when some bullshit was uttered to the large crowd of 38 that the RUN was almost 10 km and there would be a surprise (drink stop hinted) about half way around.
It was off down Stanhill Drive and the trail, with several checks, meandered across and around Chevron Is., until the bridge on Bundall Rd., where there was a difficult check. At this point hounds regrouped and several then headed off under the bridge, some south, two west and many north.
Following some confusion, the IN trail was observed over Bundall Rd. and whilst Rectum heard an On Call, Bent Banana did not and headed off in the wrong direction and later attempted to follow the trail in reverse.
Very large arrows set the course, but not all at the regulation 30 paces. Botcho and Two Dogs led most of the way, or at least they were in the front group. Flasher, who had made a miraculous recovery from his injured ankle, followed closely behind with Lurch putting in a good finish.
In the meantime Bent Banana reached the horse stables alone and remembering the promised "surprise" made a detour to Pizzas for an expected drink stop, only to find the Pizza Hut in darkness. Not to be out done, others sort out suspicious areas behind several suspect buildings along Bundall road. No surprises there either.
It was a good trot home, with Rectum and other FRBs back in just over 45 mins, after covering 7.6km.
 STIG REPORT ENDS!
A large group of eager Hash men had congregated on the terrace overlooking the magnificent Nerang River and Surfers Paradise lights by 6:12 PM however our three hares setting the run had not yet returned and had last been reported in a local watering hole sampling the Chevron Island brew. Much to the delight of Swindler all three rolled in just before kick off.
he runners generally came in on time around 7:05 including the mystery Stig. Nobody can be definitively ruled in or rolled out as the Stig but I can say it's definitely not Moonbeams or Show Pony but if you want to back them in at long odds please let me know the odds you want and I'll take your money.
Seedy one of the assistant nosh hares had been flown at great expense from Bathurst for the event. This was tipped to be a gourmet event to end all Hash gourmet events and Swindler had gone all out to impress the hierarchy.
Rectum had been busy all weekend finishing off the deck and the new glass balustrade had been installed literally hours before people arrived. The squillion dollar barbecue had never been switched on before and was put to the test with three large pieces of prime Angus beef roasting away. Particularly impressive was the window on the barbecue lid which provided some cheap entertainment while the meat was cooking.
Once again our GM was MIA and the eagle eyed Blackie stood in as the Minister for everything – GM, RA, HC, and POW.
The GM/RA/HC/POW asked Shat for a comment on the run showing an incisive selection for feedback as Shat had in fact set the run. Fanny Charmer said he was one of the three that did the full run so he was fully qualified to comment.
He said he headed up Upton Street went into the brothel where he stayed for two minutes and spent $275 and then proceeded through the Harvey Norman car park where he spent nothing. Aussie when commenting on behalf of the Walkers group said he had pulled a fetlock in Upton Street. This appears to be a new term for an old and basic function.
Blue card a.k.a. the Hash Scribe said he had extended his athletic prowess by going to the front gate of Swindler's house and returning quickly back to guard the booze masters stock.
And now to the nosh. Let me paint the picture one long table running the full length of the splendid waterfront deck with a special Sirs table set at one end and a hierarchy table set at the other end. Exquisite hand embroidered tablecloths imported from a village in China and printed detailed menus of what was about to delight. All this illuminated by the glittering lights of Surfers Paradise.
Next at the pulpit was rectum who seemed intent on biting the hand that feeds. Not wanting to waste time praising all the wonderful things of the meal he thought he would cut to the chase and give some feedback for future improvement.
The pumpkin soup was tougher than the bread.
The gravy was good
The apple strudel would have been better if it was cooked.
There were various down downs of which Ballpoint featured repeatedly and has become Sir Black Stump's newest Serial Pest.
The POW was awarded to VD for some minor infringement which now escapes me however a well-deserved choice from my position. VD has recently rented his vacant industrial shed to an entrepreneur who has divided it into four bedrooms and a well appointed bar. It appears the premises are now used for swinging and I don't believe it is a place for young children with swings.
Moonbeams was present to perform his very important duty.
END OF CIRCLE.
On On
Blue card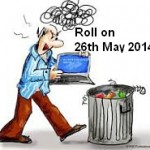 FROM CAUSTIC……
Socially Unacceptable Humour


I was in bed with a blind girl last night and she said that I had the biggest penis she had ever laid her hands on.
I said "You're pulling my leg."
I saw a poor old lady fall over today on the ice!
At least I presume she was poor – she only had $1.20 in her purse.

My girlfriend thinks that I'm a stalker.
Well, she's not exactly my girlfriend yet.
Went for my routine check-up today and everything seemed to be going fine until he stuck his index finger up my backside!
Do you think I should change dentists?
A wife says to her husband, "You're always pushing me around and talking behind my back."
He says, "What do you expect? You're in a wheel chair." 

I was explaining to my wife last night that when you die you get reincarnated but must come back as a different creature. She said she would like to come back as a cow.
I said, "You're obviously not listening."
 

The wife has been missing a week now. Police said to prepare for the worst.
So, I have been to St Vinnie's to get all of her clothes back.
You can say lots of bad things about paedophiles but at least they drive slowly past schools.
A mate of mine has just told me he's getting it on with his girlfriend and her twin.
I said "How can you tell them apart?"
He said "Her brother's got a moustache."
 

Just put a deposit down on a brand new Porsche and mentioned it on Facebook.
I said, "I can't wait for the new 911 to arrive!"
Next thing I know 4,000 f**king Muslims have added me as a friend!
 

The Red Cross have just knocked at our door and asked if we could help towards the floods in Pakistan.
I said we would love to, but our garden hose only reaches the driveway