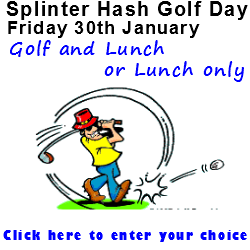 Run: 1940
Date:5/01/2015
Location: Merrimac
Hare: Nasty
Runners:35
The "run of the year" as it has been described by the hare, Nasty, certainly was a night to remember and lived up to its promise of "back to basics", both in terms of the run itself and the nosh that followed.
Executive Summary:
Tonight's run…muddy swamps, grass as high as our chins, barbed wire fences, creek crossings, barking dogs, rain, mosquitoes and midgees, Aldi party pies, curry, beer, wine, fun and hilarity in the circle…this is what we came here for!! A great night had by all..thanks Nasty!!
The Run in more detail:
At the start, 35 of us set off through the long grass of the park at the end of Jondique Street in Merrimac, with some confusion as to who was running and who was walking. All participants set off at a mighty gallop, giving the impression that all were running, including Showpony and Moonbeams!! Needless to say, several soon slowed the pace, some to barely a crawl whilst those of us made of stronger stuff continued to follow the paper trail and the arrows which appeared to have been drawn with a piece of rock rather than chalk. The false trails started before we had even left the park with one hasher heard to utter "oh no, not this shit already", when confronted with a trail leading into "snake territory" and a large impassable fence. Off we then set through the streets of Merrimac, but very quickly into bushland, at first able to be traversed quite easily but then another apt comment being heard along the lines of "I thought the prick said that the water had all gone" as we negotiated swampy mudflats and other water-courses.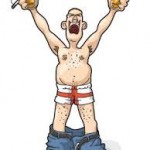 Flasher, in his usual shirtless style, went off on his own tangent, never to be seen by the majority of us again. The rest of us tried to stay together but the swamps got the better of us and at one stage a hardy pack of about six of us, foolishly following Truckie and Circumference, negotiated about two kilometres of grass that was up to our necks in height and at the end of which we had to cross a creek that had us in muddy water up to at least knee height. Someone was heard saying "I like a bit of shiggy but this is ridiculous!".
As if that wasn't enough, we then had to get through a barbed wire fence and it was here that our team skills excelled, with Circumference using a stick he had found to hold the barbed wire open enough to allow the other hardy souls to cross into a clear paddock. One comment was "how the f*** did Nasty get through here??"
After a gruelling 7.2 kilometres, topped off with a significant downpour of rain, we all made it back to the starting point where the triple pop-up shade tent had been put up and the tables and chairs all set up under it to protect us from the rain, not that it mattered much as we were all soaked, muddy and looking like drowned rats. Thankfully some of us had been briefed by Nasty at the Warriors breakfast and we had a change of clothes to get into! Definitely the best run of this calendar year, but as Sir Rabbit said "…but it will disappear into oblivion!"
The Nosh:
The Nosh apparently started off with corn chips and dip but by the time yours truly had gotten himself back and dried off, that had of course all disappeared, obviously devoured by the walkers who had expended so much energy and needed immediate sustenance! The party pies then came out with some dubious looking sauces also on offer. The pies were announced as being the main course and the portion control Nazis tried to limit us to one pie each! Most of us thought that was total bollocks and took at least two pies each, with Botcho allegedly helping himself to at least six of them! Poor old Fullershit took two pies, both of which had no filling at all. Doesn't say much for the quality control at Aldi!!
The real main course turned out to be a mince curry of sorts, served with white boiled rice…Phantom said that "on a scale of one to ten, I would rate this as a zero!" to which Nasty responded "wait for the after taste!!". Presumably one would think that for there to be an "after-taste", there firstly has to be taste!!
Dessert consisted of what I think was chocolate cake and custard in a plastic cup, garnished with strawberries, a chocolate-covered sultana and a chocolate biscuit stick. Not bad really but there were three left over, which is an indication of sorts as to its quality.
When yours truly started complaining about the mosquitoes over dinner, Weekly's response was "you need more booze in your system!!"
The Circle:
 Just as Nosh was coming to an end at around 8.10pm it was time to "circle up" and the rain started again. GM directed all tables to be cleared so circle could be under the cover of the tent, resulting in a bit of GM abuse with some saying "let's have a sit-down circle!" but the GM would have none of that nonsense.
Visitors and returning runners were welcomed warmly and it was nice to see Bondage, Shetland, Magician (our rep in Ho Chi Minh city), Pile Driver and Brewtus back in the ranks. All received a down-down for gracing us with their presence.
Sir Blackstump was asked for his run report to which he responded "lovely to get back into the mud and have it squelching between your toes…it gets rid of the tinea..we even had rain, another great touch!"
Flasher concluded it was an "excellent run" but said he is sick of people calling him a "short c**t" all the time and threatened to hit those that do so with his giant plastic dildo!
Our esteemed RA was in good form tonight, professing at the start of his rant, err, sorry, sermon that he had done a lot of research into ICE and its effects on the human body, at which point he immediately then called Miscarriage to the front for his icing for having botched his Christmas lunch by buying one solitary bag of ice to keep $400 worth of seafood fresh for his lunch guests. Needless to say the whole lot went off due to not being kept cold enough. This also deserved a down-down (no. 1).
Miscarriage then entertained us with the tale of his twin brother's antics at Hollywood Showgirls nightclub. Down-down again (no. 2). Miscarriage then proceeded to nominate Rug as representative of those charged with leaving bottle tops all over the place at Miscarriage Manor at Gilston last week.
Third down-down for Miscarriage was for his shoe left securing the bed at another hasher's house. Very suspicious indeed! Miscarriage's fourth down-down was for wearing a women's hash (Singapore Harriets) t-shirt at a men-only hash. Miscarriage's FIFTH down-down was for having the Useless award, passed on with all due grace by it's previous proud wearer, Truckie.
Ferret took a down-down for forgetting the Prick of the Week regalia. Well deserved after tipping the ice-tray all over your trusty scribe's feet!!
That just about concluded all business and Moonbeams closed the circle in his usual inimitable style!
Reminders:
9th February will be Ballpoint's 50th birthday run and he requests that all hashers wear a Hawaiian shirt to mark the occasion.
Fanny Charmer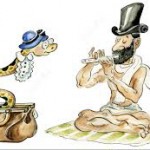 Substitute to the Substitute Scribe