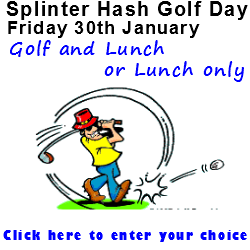 Run: 1939
Date:29/12/2014
Location: Gilston
Hare: Miscarriage
Runners:30
Gold Coast Gourmet Hash
MOVIE MARATHON of the Year Screened at the new NASTY BAR with screening of Vietnam, Croatia and Philippines recent release movies by Nasty Spellburg.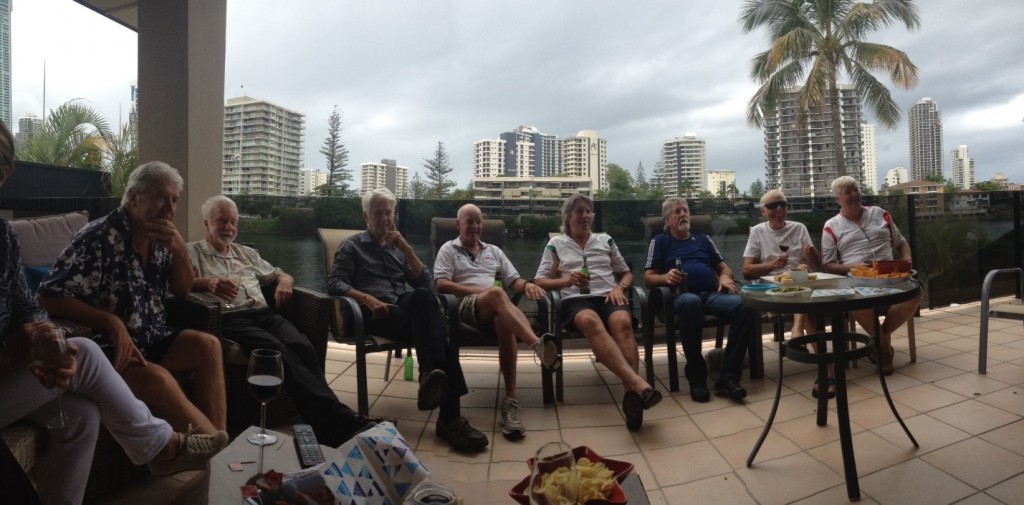 The Hash House Harriers was formed at the Selangor Club Chambers in Malaya in 1937/38 by E.J Galvin, Malay Mail, H.M Doig, A.S Gispert and Cecil H. Lee. Rumor has it that Gispert was the real ideas man who created the Hash and he was also a Walker and a Bike rider. Tradition continue today with this group of GCHHH who are also excellent athletes.
 Auction of the year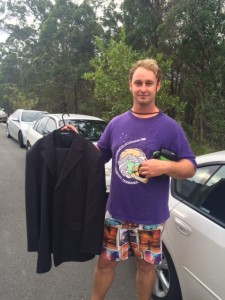 A generous donation of this never ever worn Georgiou Armani suit valued at $3000 has been kindly donated by Nasty ( too small for him now) . It will be auctioned at the next Hash Nasty run with proceeds to go toward the AGPU entertainment. Don't miss this auction event of the year to be the best dressed GCHHH.
GCHHH Shat on 30 December decided to go looking for the Air Asia missing plane and took a flight to same location as missing plane. As a Warrior he holds no fear as he heard that lightning never strikes twice in the same place. Shat decided to take the same Air Asia flightpath and is seen flying in the same location as missing plane. Looking out the window with his eagle eyes it appears he spotted the missing aircraft lifejackets and doors. Well done Shat!!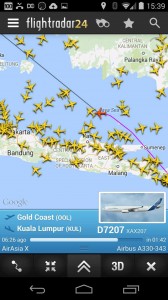 Run 1939 with Miscarriage at early start time of 5pm
Promoted as the Bush Run and Trailer Nosh of the year.
Will Miscarriage be able to break the mould again this week?
Will the run surpass Miscarriage's last Cow Paddock Bush run heralded as Bush Run of the Year.
Location was looking good as Fuller Shit soon got bogged in the heavy mud!!
A group of 30 dedicated athletes circled around the bogged hash trailer,took out a few chairs, opened a cold beer and immediatly relaxed.
Thanks Miscarriage for buying this land so you could provide a unique hash location.
The pre-run briefing from Miscarriage was as always lots of waffle and there were as usual those mumbled words …"run that way and find the trail marked with paper and come back down that mountain slope"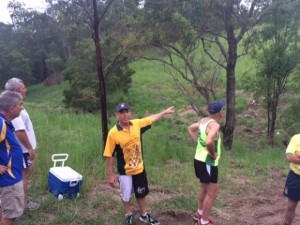 The GM was unable to call the rabble to order as RA Caustic reported he was out fishing for baitfish on the continental shelf and had already has 11 beers by 11am. He was reported to be in high spirts and we would be unlikely to see him today.
With that Miscarriage sent the group on their way at 5.16 pm with words " you wont miss this trail and its a great run' .
After last few weeks of the so called Best Bush Run of the Year followed by the so called Best Trailer Nosh of the Year that in fact were total debacles this was looking very good for Miscarriage.
The Run Warm Up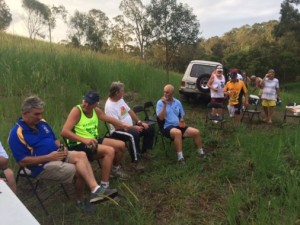 Yes…we do see some of our runners actually do stretching before the run as they now sit in chairs as they exercise and stretch their thumb over their IPhones.
The Run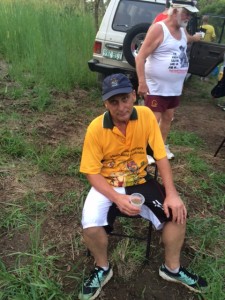 This picture says it all!!! He ran this run twice in one day!!
Miscarriage spent considerable effort in setting this well-marked Bush Run. We guess he has the experience so it was expected to be a good run.The runners and walkers moved up the grassy hill that just kept going up and up and up.
The only relevant clue was the final information that Miscarriage would be standing at each "check" to make sure no one got lost and all did the full run. Good work Miscarriage to keep these bastards honest!!
Very quickly runners moved forward passing all the wobbly walkers as they strugged up the slope.
Miscarriage knowing the way led Flasher , 2 Dogs ,Bent Banana, Sir Black Stump , and Botcho as leading the runners up the hill Miscarriage's run was all looking very good with heaps of bush, mud and rough terrain!! There was to be no bitumen road on this run.
It was noted that this week there were no International investors on the run so why did the run go over every square KM of Miscarriage's new proposed Subdivision called "Burkeland"??
Lurch, Sir Slab, Fanny Charmer , Head Job ,Rug ,Iceman ,Caustic and 2 Dogs were in full flight up the hill. Miscarriage was waiting at the checks to make sure each hashman went the right way ..well done Miscarriage for your assistance.
On On was then called several times on the run as the group all moved across the bush up hill and down dale and were saved by Miscarriage with his assistance to get them going the right way.
Most runners this week did do the full run it was by all accounts a excellent run .
The first runners back via the correct trail down the hill to the trailer were Flasher 1st,
Sir Black Stump 2nd and Bent Banana 3rd with Botcho and 2 Dogs close by.
2 Dogs reported run time of 46.05 minutes..Run distance 75.1 km. Area covered 8.5 sq KM with a average pace of 9.06 min /km ..Well done runners.
Caustic and Missing Link came in next in 56 min followed by Lurch and Rug .
It appears that Sir Rabbitt decided to walk this week so he could tell the walkers all the stories of his alcoholic christmas parties.
Run Critic Fanny Charmer noted " Best Run of the year so far". Hare Miscarriage put in a lot of effort and experience for this run but again failed to provide a drink stop.
Two Dogs also got in on the act and commented "Amazing how he found new territory after all the runs from here" ..
Great effort Miscarriage for an excellent Bush Run.
The WOBBLY Walkers
As always a big group of wobbly walkers lined up at the starting gate.As the walking group is getting slower and most of these geriatics in the past weeks have made little effort to move away from the Nosh and Booze area but tonight was different. The excitement and smell of the bush gums got them going.
Again we see those ex runners, Sir Rabbit , Rockhard, Circumference, this week joined with Slug to the ranks of the dedicated professional walkers. It seems that they are they now permanent walkers?
Weekly showed no pain as he too raced up the hill.
Once at the top of the first hill we see the lead walker Kwakka giving directions
The dedicated professional walkers, with Miscarriage's guest Ron and Son of Swindler Darren , with Fuller Shit , Blue Card , Hard On , Weekly, Ferrett & Swindler all moved out a brisk pace up the hill which they kept up the good pace for the 5 km walk. What great comraderie these brave bunch of Hash Walkers continue to experience.
First walkers back over the hills and down the dales and across the mud were Son of Swindler Darren with Blue Card and the Big O.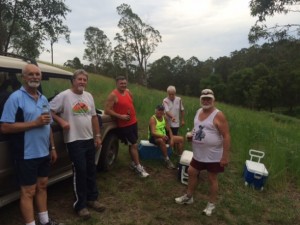 Back to the safety of the trailer the walkers enjoyed a cold well deserved beer
 The Nosh
For the Hare Miscarriage it was always going to be a hard act to follow after his last Miscarriage effort that at this stage was voted "The Best Trailer Bush Nosh of the Year?" As promised by the GM Kitchen Bitch the hash in now truly back into gourmet.
Real Bush, Trailer, Great Location and with hygiene totally forgotten as the nosh chef Miscarriage took off his sweaty shirt and proceeded to handle all the food with his so called dirty little spotless hands!!.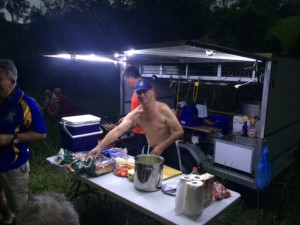 Portioned controlled to perfection so no waste it was help yourself food.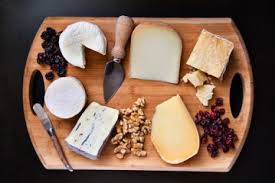 Cheeze platter with Greek Olives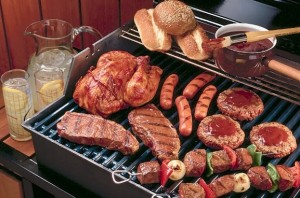 BBQ Black Angus steak with Gourmet Sausages and Salad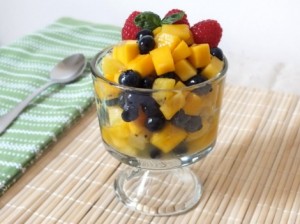 Fresh mango fruit salad
Resident food CriTic Lurch Who had only 1 helping of steak and SAUSAGES ( no second helpings as portioned controlled) OBVIOUSLY appreciated the food:
…………"Great food and at last back to Hash basics"
Well done MISCARRIAGE FOR providing the NOSH WITH NO outsourcing. except for assiastance by your old mate Ron .a Great effort that helped to make this ANOTHER REAL hash night of true HASH nosh in a great location in the BUSH.
The Bush CIRCLE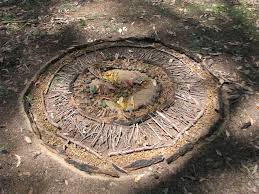 Contrary to the report by RA Caustic that the GM was seen heavily intoxicated in control of ship, the GM did appear to supervise the Nosh and run the bush circle.
The GM appeared in Katmandu Hat with Hash Chains and with his trademark Moses Staff but someone commented that he did small a bit fishy and really need his staff ( meaning the RA) to hold him up!!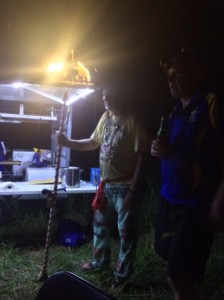 DD to:
Rod ( Friend of Miscarriage who advised Miscarriage is also known as Millimeter)
Miscarriage for the Hare and Nosh
Ferrett for proudly wearing his Xmas T Shirt
Missing Link for not wearing his Christmas T Shirt and for posing in his calendar when on Hierarchy
Visitors Rod and Darren Son of Swindler
Nasty presented doctors certificate to save himself an Icing
Head Job as returning runner
Miscarriage for false change on Sir Rabbit for a so called prohibited import
Iceman joke this week went down well. A great "Heaven arrival joke" Iceman after recent pathetic failed jokes.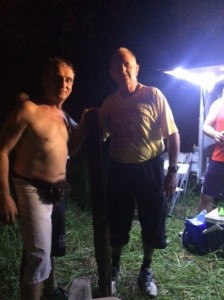 Sir Black Stump proudly presented to Miscarriage the original Black Stump. No doubt this will find a pride of place on the new "Burkeland" subdivision.
Useless Shirt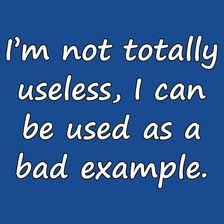 Yes…still with Truck Tyres wherever he is?
Prick of the Week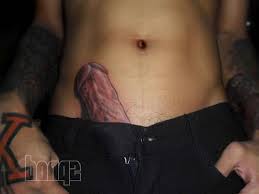 Awarded by Botcho on behalf of Cumsmoke to Ferrett (yes..spelt with 2 rr's and 2 tt's) for failure to read directions from Botcho.
Gift for GM
Once again with tears in his eyes saying "the best gift so far this year" the GM accepted an amazing gift and thoughtful gift from Nasty. This highly prized possession of Nasty has now been handed over to the GM. The highly prized Gold Coast Fishing Jacket is now with a new owner. Nothing could turn on our GM more. Well done Nasty for an well thought gift.
 GM Report
GM advised next week run will be by Nasty!! Our GM has personally promised to assist to ensure that this event so it is not as predictable as suspected. Good Luck GM if you can pull this off!!
NOTE: The Nasty run will NOT be held in the Aldi carpark and there will NOT be Aldi pies served for Nosh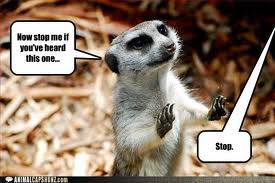 End of CIRCLE …….by FERRETT @ 8.14 pm