Run: 1943
Date:26/01/2015
Location: Robina
Hares: Truck Tyres, KB, Slug and Rockhard
Runners:27
A wonderfully bedecked crew of about 30 turned up the Australia Day cricket day extravaganza.
The wicket was looking splendid on our arrival with the covers off and having been freshly mown for the eagerly awaited match.
There were Kiwi Aussies, Kiwis, Pommie Aussies and even a few Aussies in attendance.
One Hasher made it big time on the  news instead of attending OUR celebrations !!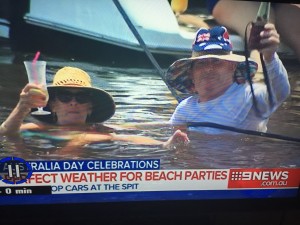 At noon the advertised starting time only a few hardy participants had arrived notably led by our beloved Hash IT master Botulism and his tribe and bride and our most run Sir Rabbit who waxed on about the wonders of the Surfside buses having arrived right at the grounds from the wilds of Chirn Park on a 747. We didn't know that there was an airport at Robina but Sir Rabbit assured us he definitely arrived on a 747!
In true Australian style the rest of the cricketers and their supporters arrived like public servants at work in dribs and drabs and of course all a little late but at least they made the effort unlike a lot of the hash regulars who were absentees.
Eventually the pack were off on a short well marked run set by stand in hare Truck Tires in the absence of the RA who apparently was at home recovering both from a night on the grog and a recent operation that apparently included some graft (how unusual?).
The run was led by Fuller Shit who true to form was full of shit riding a somewhat all terrain e-rider and checking the checks for those of us who bother to run being only Bent Banana and Miscarriage with the rest of the pack deciding due to the heat and preserve their energy for the game decided to walk the run which although short (circa 3 km) was very well marked with chalk, flour and paper that even Flasher would have stayed on trail if he come instead of staying home tiling!
On return and having a well earned drink or two the nosh was on starting with a wonderful entree of fresh prawns packed in the ice that Miscarriage forgot at Christmas for his family prawn feast.
After the prawns were devoured it was on to mains with boiled potatoes, marinated Sam Kekovich Lamb and salad followed by the Aussie favourite pavlova all well prepared by our GM KB and his motley crew of helpers.
As one can imagine after a run or walk in the heat, quite a few drinks, prawns, lamb and pavlova a hash union meeting was quickly held and the anticipated cricket game was postponed to another day to ensure the well prepared pitch remained in perfect condition for the next users of the oval.
How kind and considerate of the hash to think of others.
New Australian and ex-kiwi Botulism then acted as quiz master and asked a lot of interesting questions about Australia with   great answers from the likes of Ferrett (yes it's true), Nasty and ex-ex GM Now Loved.
Like a good labour run raffle the winner of the quiz was none other than Botulism who firmly believes in the principle that whoever runs the quiz or raffle wins it! Well done mate.
Botcho's brother Vomit, here for the Splinter Lunch Golf Tournament told a very clever joke about never giving up being a Hash House Harrier
An impromptu seated circle was called by the GM and apart from the hare Truck Tires other notable awardees were Rockhard who wouldn't accept that Australia Day was in fact 26 January and poor old Miscarriage who had tried to give a down down to the Teflon coated Sir Rabbit for trying to catch the 3pm bus so as a pensioner he didn't have to pay!
How Australian (or Greek) is that?
Talking about Teflon apparently Sir Prince Valiant and his trust helper Missing Link who were in fact both missing were busy up in Brisbane helping young Prince son Tom paint the walls of his new home.
According to reports the new paint fell off the walls after a few days making them both prime candidates for at least the Useless award if not the prick of the week as well for failing to to take an expert with them such as Sir Arsehole or Brewtus.
After the excitement of the quiz and circle it was a quick clean up and exit by us all with a thanks to all those involved in event, those that bothered to attend including a number of better halves and visitors and a traditional end of circle by our Moonbeams stand in Ferrett before he and Mrs Ferrett depart on yet another sojourn of the QEII.
How do all these ex-public servants do it?
On On
Your reserve reserve reserve On Sec
Miscarriage