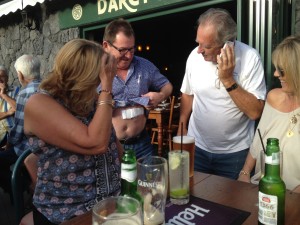 Our venerable Hasher Aussie has recently returned from a trip to Texas, USA
where he gorged on 2lb American Super-size Burgers, extra fries and 20 ounce
cokes and returned slightly heavier and MUCH BIGGER around the guts !!!!!
Seemingly on Australia Day he was enjoying a few beers and was showing off
his new Texan BBQ prowess to his mates.
Aussie had left the normal gap around the BBQ to go and get another beer but
unfortunately "his girth" has considerably expanded and his squeeze past the
"red hot" BBQ has left Aussie with 3rd Degree burns on his beer belly
requiring hospital attention!
Reports of the smell of "crackling" was noticed by his BBQ friends who
dragged him to safety !!
Photo attached shows Aussie's bandaged wound and seemingly he was having to
use copious quantities of the well known Hash pain medication as sold at
Head Office to numb the pain.
Maybe he was just BURNT OUT after his arduous travels
On On
Scottish Foreign Correspondent