Run: 1948
Date:2/03/2015
Location:Bundall
Hares: Kwakka & Moonbeams
Runners: 32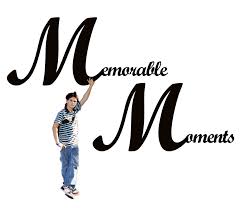 Splinter Lunch at Southport
The Video of Did Hard On enjoy his steak at Splinter Lunch?
[jwplayer mediaid="7257″]
Phantom takes his first ride on the G LINK all the way to Surfers Paradise Irish Bar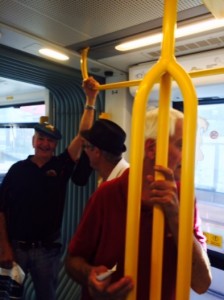 Run 1948 with Kwakka & Moonbeams
2 March 2015
The Video of Run Instructions
[jwplayer mediaid="7253″]
32 hashers eagerly waited for the run information from Kwakka or Moonbeams or 2Dogs?
No was really sure who did what but Kwakka was overheard to say as he was spending all day in the Mamma Mia Kitchen he would not have time to set the run and needed help with outsourcing the run instead of outsourcing the food.
As you can see from the video the explanation is almost impossible to understand!! See if you can work it out.
Once again those excited words from Moonbeams of "walkers go that way" the Walkers took off in the direction of the Rowers Club leaving the runners behind for more detailed instructions.
 The Run
The Runners with detailed instructions from Kwakka then raced out behind the Walkers lead by Flasher and Botcho. It only seemed like 2 weeks ago we were at this location or were we?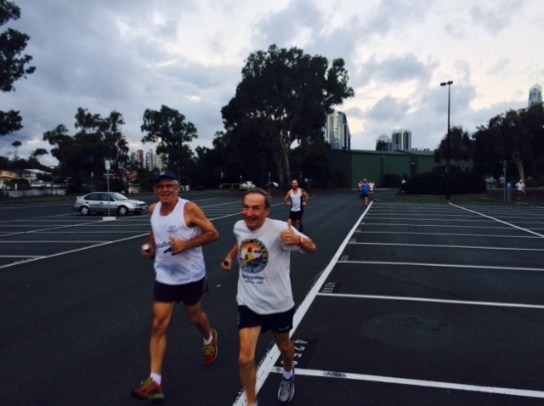 Then for the first time in recent Hash Run memory Kwakka' s plan worked. Runners and Walkers grouped up at the Bundall traffic lights.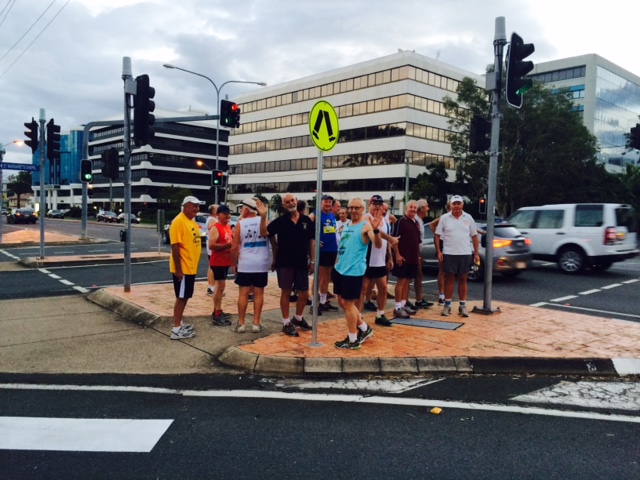 A slow amble across the road by the runners and walkers as they discussed world affairs. Then the On On was called by Sir Rabbit on the Hash bugle.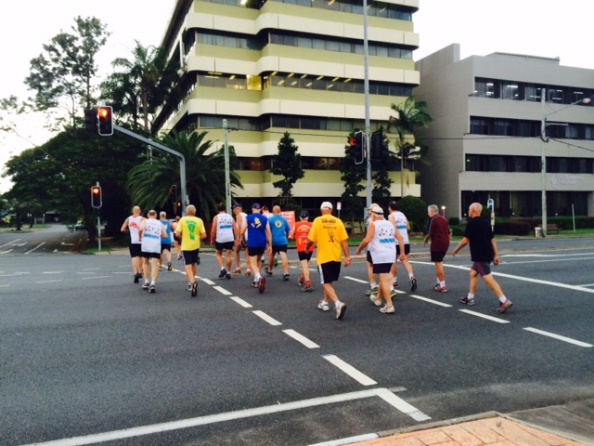 Sir Black Stump reported it was a well-marked run with lots of chalk and a very good run.
2 Dogs as always providing highly accurate information advised that the run was total of 7.1Km but he did note that Flasher once again took a short cut.
For a change the detailed instructions and well-marked trail resulted in a total run success and not the usual Fu###@@ up.
Well done Kwakka and Moonbeams for excellent run in the local area where many runs have occurred.
 The Run Finish
The tight finish with Iceman, Brewtus, Bent Banana, Josephine, 2 Dogs, Ballpoint and Botcho in with the first group of returning runners. Due to the well-marked trail and good location no one was lost and within 48 minutes all runners were back to the trailer and finishing off the free crownies supplied by Sir Prince Valiant who celebrated another birthday.
 The Long Walk
Shat reported that it was an excellent walk and for the first time that a walk had been actually well marked. Fuller-shit did the whole walk guided by Hard On and Weekly!
The Winners Circle
The RA quickly got the Nosh Chef & Hare Kwakka with the Assistant Hare Moonbeams into the circle for a detailed explanation of the run and nosh.
The Losers Circle
"If only I could have run faster" commented Josephine "I would have beaten Botcho and 2 Dogs but I tell you it's not easy to run with a roaring roger '…I guess Josephine forget to take off the POW while on the run!!
The Great Italian Mamma Mia Nosh by Chef Kwakka
At last a return to Gourmet Food as Ex Mamma Mia Chef Kwakka looked set to take the pole position as Nosh of the Year.
Kwakka advised that a large amount of pre hash food preparation was involved with top quality food, food quantity, presentation, time etc etc etc etc The Nosh had been produced as a result of his many years of experience as leading chef at Mamma Mia in Ashmore.
It does appear that he may have called in some assistance from family expert's including his Italian Mother in law Philomena who as many know has a secret nokki recipe that she refuses to give to anyone.
At last we could forget the Hash Nosh Crap of Tri Hashalon week with "Bring your own Tin of Food" which was rated the WORST Nosh of the year to date. Missing Link is still overseas in the hope we will forget .Oh Yeah!!!!
Will this be the Nosh of the Year?
Grand Master Kitchen Bitch obviously very impressed at the quality and volume of the Nosh took over from Resident Food critic Rug and personally inspected each dish in great detail and gave the positive THUMBS UP!!
The Great Italian Mamma Mia Nosh Menu
Italian Meat balls entrees. delicious
Nocci …made to an old Italian recipe not just a price
Schnitzel steaks. Cooked to perfection
Italian Salads .fresh and delicious
Tiramisu Desert. Sensational
The GM advised that Kwakka well and truly produced the Nosh goods and produced a Gourmet Nosh. But for sure it was well over budget so thanks Kwakka.
Great to have back the Nosh Gourmet Food Quality.
Well planned and organised Kwakka as the food was excellent…maybe more outsourcing is the real answer to top quality Nosh.
The Circle
The group circled around the GM and Caustic in anticipation of another pending announcement with more freebies for the Hash members.
No such luck for RA Caustic once again immediately gave orders to the Booze Masters to prepare Ice for any major or more particularly minor misdemeanour.
Icing Vengeance at its worst as RA Caustic goes into an icing rage
Kwakka for bring a Warrior. No mercy even after a great Nosh
Blue Card for driving his 4 wheel drive normally
Weekly for charge against Pile driver who was absent
Sir Prince because it was his birthday
Ballpoint for opening his mouth and using the C@$# word
Jigsaw for nothing at all
Krit for being new to our Hash
Flasher for no present for GM
Weekly again for just being there
Iceman for telling a joke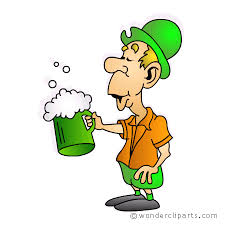 Down Downs
All the above plus
Circumference as a RR from NZ with an amazing gift for the GM of an all-day sucker!!
 POW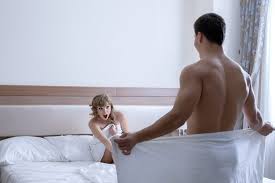 Awarded by Josephine after a great deal of deliberation and listing several deserving recipients who were not attendance the finally was left with only Aussie. (did deserve this !!!)
It does appear that Aussie may have taken a bribe from Sir Prince and his TriHashalon Team and he failed to award the first prize to the team for Sir Slab, Rockhard & Josephine who according to Josephine were the definite winners of this treasured trophy.
 GM Report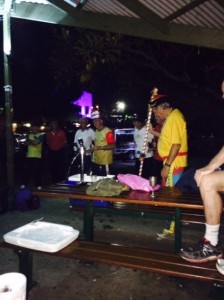 Hashy Birthdays
Sir Prince Valiant
Caustic
Show Pony
Next week run by Jigsaw ..need GPS as in the bush
GM advised that his run the following week would rate as a …"Hash Night not to be missed "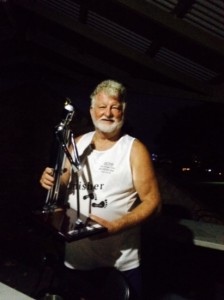 Proudly Weekly stepped forward to accept the accolades for the organisation and donation of this amazing perpetual golf trophy.
At 9.35 after much laughter & frivolity it was the those familiar words of Moonbeams that's echoed over the assembled mob ……… End of CIRCLE