Run: 1995
Date: 25-01-2016
Location: Varsity Lakes
Hares:Hierarchy
Hashers: 32
Happy Australia Day!!!……The run of the year!!!….the nosh of the year!!!!….the venue of the year!!!…that's right gentlemen, tonight was the night of nights…Our Australia Day run…brought to you by your BTB hierarchy from the Aardvark and Arrow micro brewery in West Burleigh, the venue of our very successful Oktoberfest run last year.
The run:
I must apologise profusely for the lack of a very good run description…well actually for the lack of any description at all…..why????…well, my fellow hierarchy members decided that as the next day was a public holiday (Australia Day), the run was to start at 5.00pm rather than the usual 6.15pm….in total disregard for the three or so of us in this fine hash who actually still have to work for a living!!…so I had no chance of making it on time to actually do the run!!
As I turned off the M1 onto Reedy Creek Road, racing to get to Hash from work, off in the distance I saw everybody heading off into the bush….oh well, plenty of beer on tap so I had no problem just hanging around the brewery waiting for all to return from the run. Interestingly I was not alone…with there being several hashers, both runners and walkers who obviously could not have been bothered doing anything tonight other than sit around and drink copious amounts of the on-tap, preservative-free beer. I know who you all are……. Botcho, Slab, Weekly, Fullershit, Shat, Showpony, Moonbeams, Nasty, Hard On, Headjob…to name but a few!!
In circle, our young member, Sorry, described the run as "good, but nice and hot!"..Slug described the walk as "everything a walk should be", whatever that might mean!
Of intrigue to me was that apparently Latrine was there to provide an impromptu drinkstop but he didn't show up for anything else!! WTF??? Mme Latrine, have you totally lost it???
Thank you Sir Two Dogs for taking the time to set the run and then check it to see that it was still intact due to the rain…good job!
The Nosh:
Tonight's nosh started off very appropriately with delicious Vegemite sandwiches expertly prepared by Missing Link…and all quickly devoured by the hungry hordes.
While we waited for the mains, copious amounts of beer were consumed. The BBQ was fired up and on went the onion…and on and on went Truckie, accusing yours truly of having no idea of what he was doing and saying that the onions were still raw and that they were nowhere close to be caramalised!!
Soon after the packets of lamb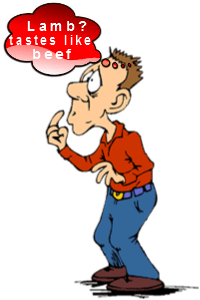 went on with many Hashers having no faith at all in Sir Rabbit, who had bought the meat and rice. Yours truly and Jigsaw, the designated cooks, made sure that it was all cooked to perfection…and despite all the early criticism as it was all being cooked, everybody thought it was a fine meal…certainly worthy of the nosh of the year!!  Many were observed to go back for seconds and thirds of the lamb and rice.   In true Oz fashion, the nosh was finished off with…wait for it…yep..Lamingtons!!
The Circle:
Our esteemed GM opened proceedings tonight welcoming us all to the run and to our venue and inviting us all to drink up as it was an "all in" night for $20!!
The entire hierarchy were called out the front to take a down-down for organising the run, prompting a comment from Josephine…. "there's less pricks on the board of BHP than there is on this bloody hierarchy!".
Next out the front was Showpony to pass on the Prick of the Week to his old mate Flasher…and it turned into a very emotional moment with Showpony apologising to Flasher for the Jonestown poisonous pies debacle and it all ending up with a handshake and commitment to ongoing friendship…well done guys and now the whole thing is behind us all and it's good to see you are mates again…..on on!!
Miscarriage, as he always does, tried to bring a charge against a hasher…this time to Josephine for wearing a T-shirt with "Aussie" on it..thus being accused of impersonating Aussie himself…give it up Miscarriage, give it up!! Of course there were howls of derision on this trumped up false charge!
Headjob was called out the front on a charge brought by Caustic…for misleading not only Caustic, but the entire Hash as to his intended (false) nuptials… "I am not getting married…I shall never get married!!"…the tables were turned and Caustic copped a down-down for this false charge.
Ferrett brought a well-deserved charge against all the pisspots who stayed behind to drink beer while everybody else was out walking or running…they're all named above…onya Ferrett!
Returning runners…Blackie, Fullershit, Shat and the Big O…welcome back guys!
Colonel Klink was marched out the front for a down-down for now being officially barred by Mrs Klink from going on any more "tours of duty" for reasons best left unwritten in these words…he's in enough trouble already!
Another big thank you to our young Hasher, Sorry, for yet again fixing the hash generator and also for offering to fix the fucked electrics on the hash trailer….this man deserves a medal!
Iceman is back to his usual form, closing proceedings with one of his corny jokes…gotta love them though…yes, it was kind of funny…automatic tampon remover…hahahaha!!
With that…Moonbeams closed proceedings!
That's all folks!!………………..other than to remind one and all to PLEASE get your forms in for the 2000th run as it is filling fast and we don't really want to be outnumbered by visitors, do we??