Run: 1994
Date: 18-01-2016
Location: Burleigh Heads
Hares:Head Job & Caustic
Runners: 30
Well, here we are, getting back into another year of fine hashing and tonight was not a disappointment at all, with a fine evening of running, walking, nosh and frivolity provided to you by your hares Headjob (nosh) and Caustic (run/walk) and the run being from the Marjorie Saint Henry Park in Tabilban Avenue and then heading off into the wilds of Burleigh Ridge Park.
The Birthday Boy:
It's appropriate to acknowledge at the start of this diatribe that tonight we were very generously supplied with "birthday crownies" by the birthday boy, Slug, who is now 60…and still one of the youngest of our group if the truth be known…congratulations Slug on this milestone and thanks for the Crownies, which due to royal decree, are charged out at $1.00 a beer.
The run:
As we all managed to make our way from the carpark into the clearing in the bush where it was all to happen that night and after we had all sprayed up so as to not get eaten alive by the mozzies, we were all called to order by the GM and then Caustic, who provided a run briefing…. "listen up you dickheads that are running…you're starting off with a walk…straight up the ridge behind me….then the run starts…now piss off in that direction!"
which we all dutifully did, huffing and wheezing and puffing up the ridge, telling ourselves "it's going to be as hard as the run the prick set from here last year!"..despite assurances from Caustic that it was only going to be around 6 kilometres, unlike last year's effort which was around 10 kilometres.
At the top of the ridge we were all stunned into bewilderment s the toilet paper markings ran out, there was no flour in sight, no nothing actually…many of us uttering "what the fuck do we do now?" as the more sprightly amongst us went in every direction checking for markings…nothing!…bloody nothing in any direction!….until our younger runner, Sorry, came out of the bush declaring… "there's an "on back to home" up and over the ridge, so it must be over there somewhere..
.why don't we run it backwards and see where we go?"…some of the less rebellious amongst the group said "no, no, no, the rules say that you go back to the last check when you can't find the trail and in this case it's back to the start!" …..bloody goody-two shoes wimps!!!   Back they went…and you know who you are!!!  The rest of us unanimously declared… "fuck that…let's do it in reverse" and to the cries of "no no" (get it, "on on" in reverse) off we headed, following the arrows in the wrong direction. It was a real crack up, and Sorry found it really funny, saying that this is the first time he had experienced this as he gleefully yelled "no no" at each arrow!  Yours truly was one of a pack of four, being Elvis,Circumference and Link and we were intermittently joined by other "no no'ers" including our esteemed RA, Two Dogs who also did the run in reverse. Despite this typical Hash debacle, we had a good run, clocked by me at 3.37 kilometres, and given the hills, not too shabby.
Of course, upon return to base camp, we were greeted with derision from Caustic who called us all a pack of "short-cutting bastards!"….seems that this was somewhat accurate as about an hour later those who had done the full run came back in wheezing and puffing as we all sat around enjoying Slug's birthday Crownies.
The Nosh:
Tonight's nosh was brought to you by Headjob….what a welcome back this was….hasn't been to Hash for yonks and gets lumbered with setting a run this early in the year…and didn't he step up to the plate in fine fashion….in true BTB (that's Back to Basics by the way) style, nibblies consisted of corn chips in abundant quantities…no dips, no cheese, no tomato dip…corn chips and nothing else!! Brilliant!!
Mains consisted of baked potatoes and beef casserole and/or Thai chicken curry and virtual rice that could have been so good if it had been there, according to Sir Two Dogs and Kitchen Bitch, our resident haute-cuisine hasher.
For sweets we had the choice of chocolate or caramel sponge cake from that fine bakery, maison du Coles Supermarket, with lashings of pressurised artificial cream. A fine effort Headjob…thanks for your efforts and I am sure that we all enjoyed your offerings.
The Circle:
Firstly, a big welcome back to Kitchen Bitch, who is nowadays rarely able to grace us with his presence due to the pressures of work….the other two workers in the Hash sympathise with you KB, we really do!! Next on the agenda was Iceman giving a run description of the reverse run (the "no no" run) and a fine run it was apparently.
Miscarriage then came out the front and proudly boasted about doing the actual run in the right direction, to which he was soon told by one and all to stick it up his arse and put a sock in it…talk about being full of yourself!!…but seriously, good effort!
Nasty critiqued the nosh, saying that it tasted like chicken and observing that Headjob's rationing was certainly tough at first!
Next out the front was young Slug, for a rousing rendition by all of us of "Hashie birthday, fuck you!"….congratulations again!
Brewtus came out for a presentation of a very small T-shirt for our youngest Hasher, William Henry. Nice to hear he is doing well and we are all looking forward to his first circle appearance.
Next out the front to describe a MASSIVE DEBACLE was Weekly…you will all recall that last week, our resident pyromaniac, Swollen Colon, was letting off crackers and smoke bombs left, right and centre, including lobbing one straight into the booze bucket. Well, all the money in the bucket was damaged, with the coins all being blackened and requiring scrubbing before banking and all the notes being burnt, some worse than others…two $20.00 notes were so badly burnt that the bank refused to take them!!! They will now have to go the Reserve Bank and even then there is no guarantee that they will be honoured by the bank….basically there goes $40.00 quite literally up in smoke!!
Swollen Colon will be getting an invoice from the Hash!!….some smart arse suggested that Weekly should have taken the coins to a coin laundry…hahaha.
Over to the RA for his lot and he proceeded to tell us that Flasher had been intending to come to Hash tonight but he fell over his cat and hurt his back…to which Miscarriage quipped that this would not be the first time a Hasher has missed Hash due to an incident with a pussy!!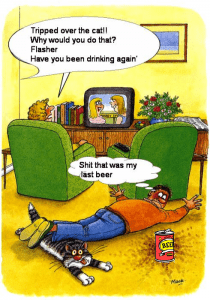 Next out the front for his share of abuse was Sir Prince Valiant…yet again making his way into the newspaper, this time being featured as one of the stalwarts of the Miami Beach community for no reason other than that he and the Princess have been there since soon after the colonisation of Queensland!
Another victim out the front..Showpony, resplendent in his Prick of the Week hat which he'd been wearing all night…he called several of us out as contenders but luckily we were all able to step back out as the intended recipient did not turn up tonight (could it be Flasher, I wonder) and he thus keeps it for another week.
Weekly was called out on a charge by Miscarriage for getting a perm done to give him curly hair…very becoming of you Weekly and don't listen to the criticism from those balding idiots!! At least you have hair to curl….and thus the night came to an end…of course only after Miscarriage had the pleasure of hearing his own voice again over some incident with the Phuket hash. Thus formal proceedings were called to an end by none other than Moonbeams.
Oh, almost forgot…our new regular attendee, Elvis, had to leave early due to his wife being sick…sorry to hear!
That's all folks!!
Fanny Charmer
On Sec.