Date: 18th March 2019………………………….
Location: Main Beach ……………………………
Runners:38…………………………………………….
Run Pictures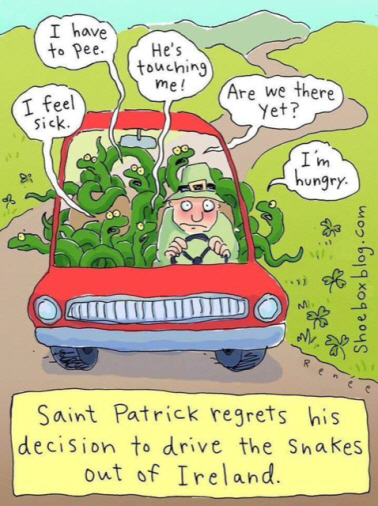 This night looked like the heavens will open up and pour rain. But it turned out fine for the night.
Our booze master gave the normal run down on the price of beer and wines. Remember do not crush your tin cans.
Then it was off to do the run or walk. For some it was a breeze as a tram ride took them to Waxy's for a free cold pint, of any favorite beer. To add to our pleasure a free green Irish hat and a black peak cap was given out to all.  We looked like drunken Irishmen in green top hats.
During the consumption of our favourite ale we all enquired where Ice Man was. We were informed that as he did not know that we were all upstairs, and that he had missed his mates and had returned. He missed out on a really good coldie.
Then it was off again to the meeting place of our circle and the Irish stew. Another talkative tram ride back for most runners.
On arriving back we were pleased to indulge in the evening nosh of hot Irish stew and plenty of bread rolls and butter. This was followed by ice cream on a stick. For those that were extra hungry, they could have second helpings from the bottom of the hot pot. This had an extra tangy and smoked taste.
8.20pm.   The GM opens the circle as the hero of Winston Churchill ,complete with his bell on the walking stick.
Returning runners and Walkers.    These were Aussie, whom returned from overseas, Dion from the Maryborough area, and Eddie from Asia. A down down was directed  for them.
Ice Man explained how he did not manage to join all the other runners at Waxy's. Together with Seat Hog and Proxy, they were down downed.
RA report.    The weekend car rally in the Scenic Rim was greatly praised, and all who took part appreciated all the efforts and work to achieve this function. A great credit to Mad Mike and Truckie. S- Bends mentions how much fun it was and adds that a happy wife makes a happy life.  A very well deserved down down was ordered for these very great hash men. Congratulation's go to the three top finalists.  Dr Death/ Double Trouble, Magician/ Dildo and Bren Gun/ Jan.  Well done.
Charge from the floor.    Aussie, while in Waxy's Irish bar tries to locate his wallet. He mistakes another and looks for a few bank notes. With astonishment his wallet is comlpely empty. He soon realizes that this particular wallet belongs to Truckie. With relief Aussie finds his own wallet with oodles of cash. That was a close call.
Next victim was Proxy, the nights hare. He forgot to order Irish beer.  A down down was in order for these hash men.
Mad Mike gave the car rally summary and results. Results will be posted on the web. The runners appreciated his efforts and applause was freely given.
Proxy told a joke where an elephant's trunk was transplanted and what havoc it caused.
Rug explained about drinking larger that makes things go limp, where as Guinness beer made things larger and harder.
Aussie asked Proxy to explain why he had changed his residence to another area.
The RA informed that we humans are the only animals that stutter in our speech. Little Jonny at school thought different when a Bull Terrier attacked his cat.
There was another joke about Irish high-rise workers who vowed to throw them self's off the building in protest about their tasteless sandwiches that their wives made. They went over the edge including the Irishman who made his own lunch.
There will always be a runner who wants to try out his new running shoes hashing. Well, the GM noticed Pepe Le Pew. Off came one of his shoes and it was filled with a light brown liquid that he drank very quickly to avoid passing out. He is lucky as his left behind shirt from last week, was returned fully washed and pressed by Mrs. Weekly. Now that's service.
The circle did not forget Kwakka's birthday. He was thanked for his gift of the evening's beer. And in return a birthday chorus was cheerfully song for him.
There is a hierarchy meeting Wednesday 20th March 2019 at 9.30am at Main Beach Surf Club.
G M Weekly Churchill quotes.
"We make a living by what we get, but we make a life by what we give".
"If you're going through hell, keep going."
"You have enemies? Good. That means you're stood up for something, some time in your life."
9.50pm.   Circle closed.
Please phone those absent friends.  Are you OK mate?
On On Sec.   FA.