Run 1896
Date:3/03/2014
Location:Currumbin
Hare: Now Loved
Runners:27
The GM called Circle Up which turned out to be a sitting circle in a rectangle. The GM asked Two Dogs for some wise words on the run and he responded VD has f#*ked up a good run. Missing Link in an obvious attempt in a giant suck up to the GM said it was a fabulous run. Truck Tires when asked to comment on the nosh was equally in a suck up mood and had none of Rug's usual edgy comments and just said it was very good. However, as a bachelor Trucky thinks any nosh is very good.
Caustic living up to his name said the steak was gristly and as there were no lights he could not see what he was eating. Kitchen Bitch got a round of applause for once again stepping in as Master Chef in the hash trailer kitchen. It is becoming a regular event that KB jumps in as the Master Chef so preparing a nosh is not a difficult job anymore. A voice from the crowd awarded the nosh 10.6 out of 10 in a further attempt to curry favour with the GM.
Our visitor Ballpoint was given the Useless Shirt Award for the night as he apparently got off trail and was seen heading North towards the nature trail over Burleigh Heads. Sir Prince Valiant who turned 65 years young donated two cartons of crownies to the night. He can now go to Centrelink and get his pension however we are a bit concerned on a pension next year whether he can afford crownies or whether we will be getting Aldi beer from Chile.
Rabbit, Ferret and Sir Black Stump were mentioned in dispatches as knowing the Centrelink lurks and/or discounts that will now be available to Sir Prince. Apparently it was Caustic's birthday last week and there were still left over crownies this week which seems hard to believe there would be leftovers but as yours truly could not attend last week the crownies tasted particularly good this week.
It was Show Pony's birthday this week but as he was not in the Circle, Josephine as a Show Pony look alike was called out for a drink. Personally I think that is an insult to Show Pony.
Missing Link was recognised for having done 700 runs and he reckoned it has cost him about $8,000 and he is wondering if it was all worthwhile.
Aussie took out two awards, Telstra Phone Purchaser of the Year and the Apple Iphone Dickhead award for losing both his phone and his wife's phone in NZ in three days last week.
Visitors this week were Full of Shit from Darwin, who unlike most of you other hashers who are full of it, he is constantly reminded with his Hash name and Peter (yet to be named) who was introduced to Hash in Hong Kong by going on one run. Both these guys are now living on the Gold Coast and show the undesirable traits to be a good Hash man.
Full of Shit (FOS) requested that the GM take a DD not only riding his bike to set the run but riding his bike on the run. The RA jumped out into the Circle to take over proceedings and started by giving FOS a DD as he should know better than to question the actions of a GM. Our other visitor Peter, not to be left out, took a DD for taking charge of the walkers of which the RA was one, when he "told us where to go" as he seemed to know the local area pretty well for a recent immigrant.
Josephine took a DD for obviously being on drugs at the speed he shot past the RA on the run going in the wrong direction over a bridge then back again like a thoroughbred on steroids.
Peter apparently equalled or broke the record of DD's for the night taking at least 7 on the night. Truck Tires got an honourable mention for the little kangaroo scrotum bag that he uses to secrete his money. Truck Tires had been given a large cow bell by the RA at the beginning of the night so that for once on the run he wouldn't get lost and this seemed to work well so may become a regular occurrence.
Ballpoint regailled us with a story of how he had been conned by Pizza. Last week Pizza asked Ballpoint if he had set a few Hash runs and Ballpoint told him he had. To which Pizza replied next week is my run, I can do the nosh and the drinks no problem but I need somebody to set the run can you help me out? To which Ballpoint readily agreed as it didn't seem to onerous. During the week Pizza called him up as the next stage of the sting to inform Ballpoint that Pizza had a problem as he couldn't attend on his run and was there any chance that Ballpoint could also organise the nosh.
Sorry Ballpoint we should have warned you about Pizza but the good thing is if you with a bit of help organise the nosh it will no doubt be far ahead of what Pizza would have organised based on past performances. As Caustic said, there is a god.
Next week's run for a change will be at Labrador and set by Veteran.
End of Circle.
Jokes for The Week (compliments of Caustic and his depraved email forwarding mates!)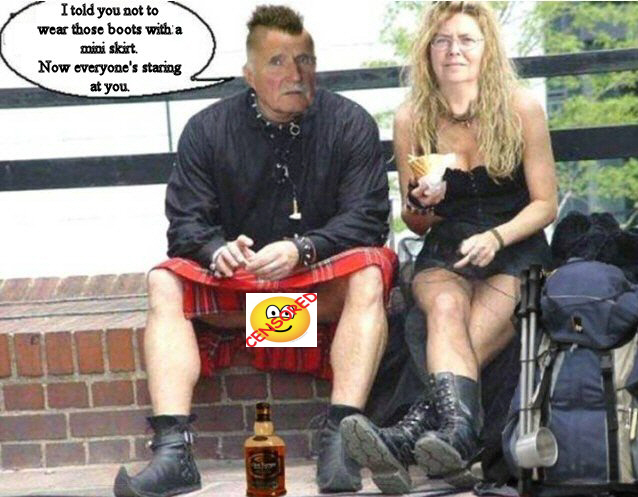 Hash Exam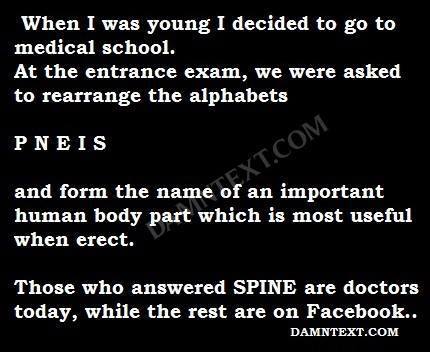 BENEFITS OF BECOMING AN OLD HASHMAN
As Hashman age there comes new Multi tasking skills !!??
You can Laugh,Cough,Sneeze,Fart and Pee all at the same time !!
On On
Blue card