Run: 1915
Date:14/7/2014
Location: Mudgeeraba
Hare: Sir AH and assistant Rock hard
Runners: 24
The run tonight started from the park adjacent to the tennis courts at Mudgeeraba, just west of the M1 and a pain in the arse to get to for most of us, with parking at a premium as we were competing with the attendees at the tennis club, but it all added to the adventure that is an integral part of Hash.
Weekly's opening comment upon arrival was most apt.."where's the beer??".
Some 24 hardy Hashers turned up tonight with about 14 of us being runners and the others choosing to walk. It is also to be noted that a small pack of "runners" set off but after some 1.4km fell back into their normal pace of walking. I am reliably told that the change of mind was all Sir Rabbit's idea.
The run was challenging and where there were arrows, there was a shitload of them, almost to the point of absurdity, with spacing between them being about every 1.5 metres but then all of a sudden there was nothing, with one marked example being a solid two arrow hard on, into a park and then nothing, absolutely nothing! Consequently, this beginner scribe and Hasher, always afraid of getting lost out in the bush late at night, stuck like glue to two experienced Hashers and we still got lost, losing the trail completely.
Luckily Sir Blackstump was able to lead us in the right direction, pointing out that he knew the lay of the land like the back of his hand, having been a land baron in the area in years gone by.
The most significant pre-circle comments about the run and the walk this week focussed on the fact that anything would have been better than last week's total debacle, which I am reliably told consisted of a run around a fairly large block bounded by Upton Street, Ashmore Road, and Bundall Road and nothing much else.
The food tonight…ahhh, the food!! Again, many Hashers this week could not help themselves and were compelled to draw comparisons with last week's "food", but enough criticism of last week, particularly given that your fill-in scribe was not even there and has no desire to engage in commenting on what can only be called hearsay evidence.
Tonight's gourmet delight commenced with a beautifully cooked Minestrone soup, offered up with lashings of grated cheese to be sprinkled to each Hasher's choice and with several varieties of specialty bread on offer. Rectum sang the praises of the food and it would seem that with the "gourmet" is definitely back in the gourmet hash.
Main course was a delicious Thai chicken curry, again cooked to perfection and again praised by all, including Rectum. Your fill-in scribe was in absolute awe of the skill demonstrated by Sir Rabbit and Weekly is drinking the curry soup out of the bottom of their plates without spilling one drop!
Dessert consisted of home-made, yes home-made, apple strudel with lashings of custard for those of us who wanted it. All in all a great meal!
Slug, who is now looking very svelte, tipping the scales at about 78 kg, refrained from indulging in the hash nosh, instead bringing along is own dinner. Such willpower is to be admired and congratulations on the new shape and great to hear you are feeling so much better for it.
Circle was held around the remnants of a fire lit by our GM and which was promptly advised by the Fire Brigade that if it was not put out he would be fined $1500.00!!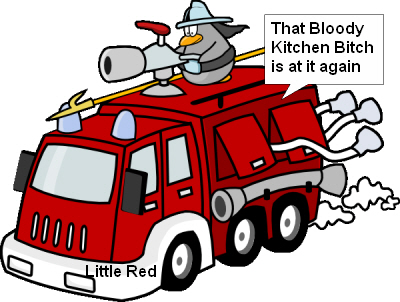 This weeks Question: What's the Engines name?
Rectum was asked for his learned opinion of the run, which he described as "very novel" and "where there were markings it was great and where there weren't it was woeful". Botcho wisely observed that "it wasn't a bad run…we've done it before but that's ok". In usual form, Flasher managed to do his usual disappearing act at the first check, going off and never to be seen again! Ferrett, as was the case with most runners who had done last week's run, could not help but draw further comparisons!
Returning runners this week – Fanny Charmer – all spruced up and clean-cut after doing a 780km charity bicycle ride from Cairns to Kurumba.
Sir Rabbit was thanked for donating a large cow-horn to the Hash and Lurch did his impersonation of a dying bull trying to blow it.
Our RA had little or no material to proffer this week.
Miscarriage "thanked" those who set out on the walk with him tonight and promptly set about abandoning him. It would appear that Weekly was the instigator of the aforesaid abandonment!!
Rectum was suitably admonished by the RA for apparently regularly running with the Wednesday mixed hash, an action that simply will not be tolerated in the future.
Weekly was called to front of centre and was heard to mutter words to the effect "why am I burdened with all this Hash shit??" as he dragged out the Prick of the Week paraphernalia and the Useless jumper. A "true natural athlete in the making" another Hasher was heard to comment about Weekly as he took centre stage. For reasons unknown to your fill-in scribe, Fanny Charmer was awarded the "Useless" jumper by Weekly.
Weekly then proceeded to read out a statement from Wrong Way Woodsy passing on his Prick of the Week award. A lame excuse of having been invited to a "dinner function" of some description was given in the written statement along with information that his wife had a viewing of the Prick of the Week trophy to which Wrong Way said it was a plaster cast of his own member and that he had thought "long and hard" (hahahaha!!) about who to give it to this week. In typical Hash fashion,
Wrong Way got it ALL wrong and thought it was Nasty who did a pretend chunder after last week's nosh, whereas in fact it was Caustic who had done this. The rules being as they are, the hierarchy is not to be awarded such offensive accolades so for the sake of continuity, poor old Circumference was AGAIN awarded Prick of the Week.
Miscarriage informed the circle that he is off to Cambodia shortly, after a quick trip to see his father in Melbourne. He will be taking Missing Link with him as his offsider. Look after that new passport Miscarriage!
Some confusing discussion then took place regarding next week's G:Spot run and then end of circle.
On On
Fanny Charmer
Stand in On Sec