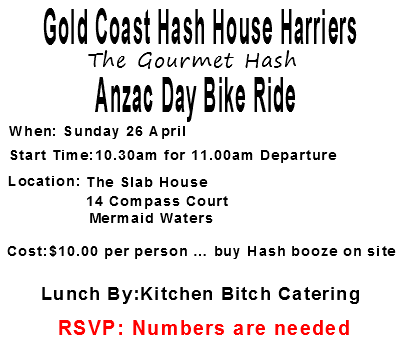 Run: 1953
Date:6/04/2015
Location: Miami
Hares: Circumference
Runners: 26
Gold Coast Gourmet Hash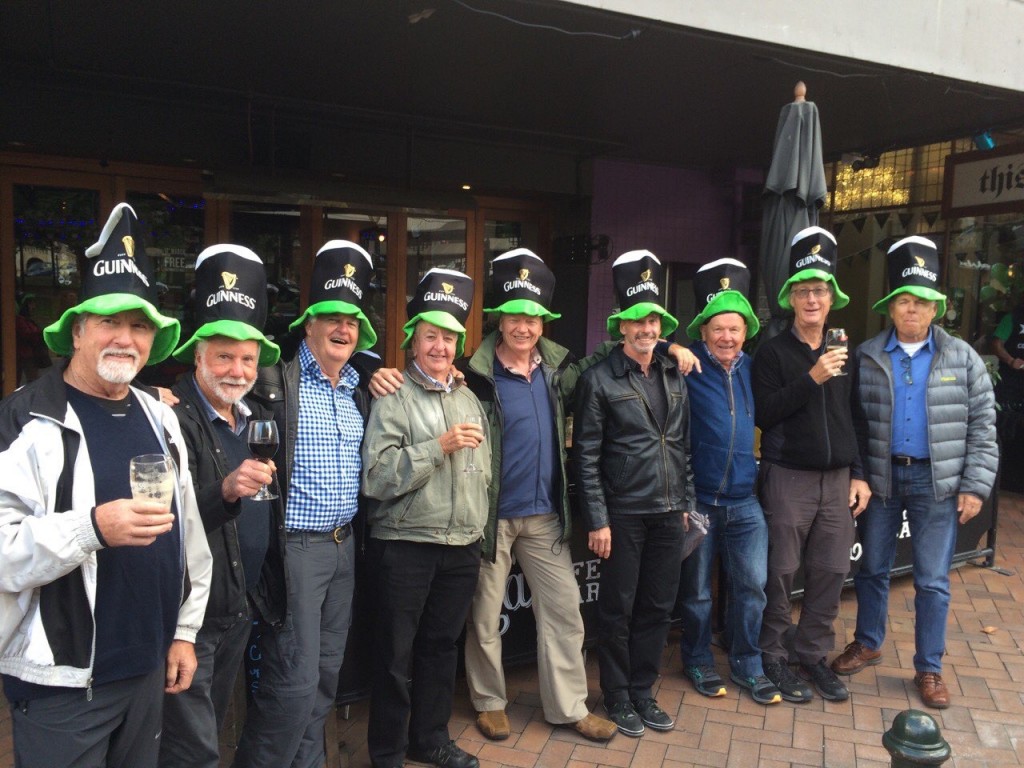 The Hash House Harriers was formed at the Selangor Club Chambers in Malaya in 1937/38 by E.J Galvin, Malay Mail, H.M Doig, A.S Gispert and Cecil H. Lee. Rumor has it that Gispert was the real ideas man who created the Hash and was also a Walker and a Bike rider. The tradition continue today with this group of GCHHH athletes who recently celebrated St Patrick Day in Dunedin NZ.
Video on how the GCHHH live when away from home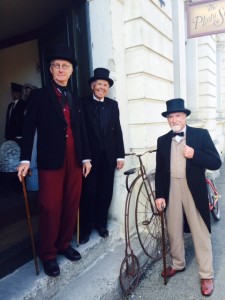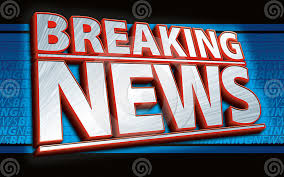 Botcho advised that soon all GCHHH would be able to travel after the 2 recent big wins in the Lottery. This week he is planning that we will win the big $25Million
Sir Rabbit defies all odds after hospitalization over Easter. He joins the Monday night run in the hopes the run activity will help him pass his kidney stone.
Run 1953 with Circumference at early start time of 5pm
Video of Run start by Circumference at Mick Schamburg Park Miami
Video on how the Circumferecne run
Promoted by Circumference as the Beach Run and Trailer Nosh of the year.
Will the beachside run save Circumference 's as his ast run was noted as worst Run of the Year.
Location was looking good as the eye candy passed by in large numbers . Slug was heard to comment . "Who cares about running, lets just hang here and have a few beers!"
A group of 26 dedicated athletes circled around Circumference for pre-run briefing who promptly told the walkers to go that way while runners were to follow him.
With that Circumference sent the runners on their way at 5.16 pm with words " you wont miss this trail and its a great run and there is a drink stop with free beer"
After last few weeks of the so called Best Run of the Year followed by the so called Best Trailer Nosh of the Year that in fact were total debacles this was looking a very good opportunity for Circumference to redeem himself.
The Run
Circumference commented that he had spent considerable effort in setting this well-marked Beachside Run. We guess he has the experience so it was expected to be a good run.
The only relevant clue was the final information that Circumference would be waiting somewhere standing at the drink stop.Good work Circumference to keep these bastards honest!!
Very quickly runners moved forward but all going in different directions.
Flasher the way led, with Miscarriage ,Brewtus, Bent Banana, Sir Black Stump and Botcho as leading the runners up the road. Circumference's run was all looking very good with zero bush, zero mud and zero rough terrain!! There was to be no bitumen road on this run.Yeah !!!
Iceman , Sir Slab, Rug , Sir Prince Valient and Missing Link were in full flight up the road with Jigsaw. Waiting at the drink stop was Circumference to make sure each hashman went the right way ..well done Circumference for your assistance but it appears only 2 runners found your free beer drink stop .
The first runners back via the correct trail down the hill to the trailer was Flasher followed by Ferrett who went in the opposite direction.
Sir Black Stump and Miscarriage 2nd, Bent Banana 3rd with Botcho and close by Ballpoint.
Reported run time of 41.05 minutes..Run distance 5.1 km. Area covered 25 sq KM with an average pace of 8.06 min /km ..Well done runners.
It appears that Sir Rabbitt decided to walk this week in the hope that his kidney stone would pass with the exercise.
Run Critic Brewtus noted " Best Run of the year so far". Hare Circumference put in a lot of effort and experience for this run provided a free beer drink stop that only 2 runners were able to find.
Miscarriage reported that he was forced to run into the sun with "no hat ,no sunglasses and no block out."
Flasher also got in on the act and commented "Amazing how he found new territory after all the runs from here" ..
Rug not to be left out "concurred"
Great effort Circumference for an excellent Beachside Run.
The WOBBLY Walkers
As always a big group of wobbly walkers lined up on the pathway more interested in the eye candy than the walk .As the walking group is getting slower and most of these geriatics in the past weeks have made little effort to move away from the Nosh and Booze area but tonight it was different. The excitement and smell so much nearby bush got them going quickly along the pathway.
Again we see those ex runners, Sir Rabbit , Rockhard, this week joined with Slug to the ranks of the dedicated professional walkers. It seems that they are they now permanent walkers with Kwakka, Nasty , Weekly ,Carefree ,Swindler and Hard On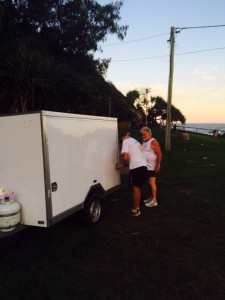 Weekly showed no pain as he too raced around trying to get the trailer opened with help from Sir Slab so that cold beer would be on tap when the runners got back..anything to save an icing.
The dedicated professional walkers, with Explet returning runner with Hard On , Weekly, Slug & Swindler all moved out a brisk pace along the pathway which they kept up the good pace for the 3 km walk.
Back to the safety of the trailer the walkers enjoyed a cold well deserved beer with Carefree the first to indulge. Walking is really hard work.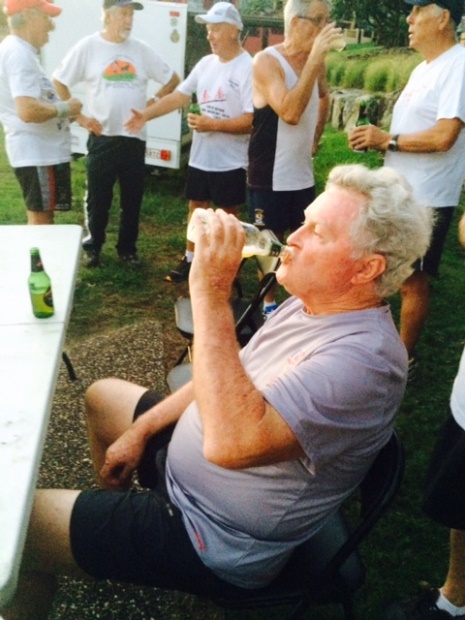 The Nosh
For the Hare Circumference it was always going to be a hard act to follow recent effort that at this stage each have been voted "The Best Trailer Nosh of the Year?" As promised by the GM Kitchen Bitch the hash in now truly back into gourmet.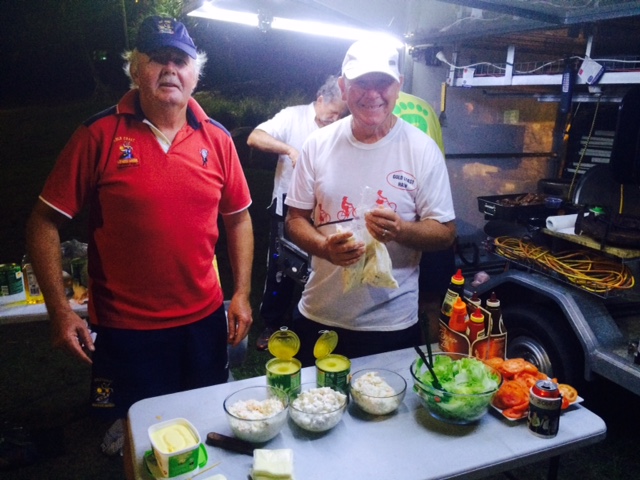 With hygiene totally forgotten as the nosh chef Circumference proceeded to handle all the food with his so called dirty little spotless hands assisted by Jigsaw!!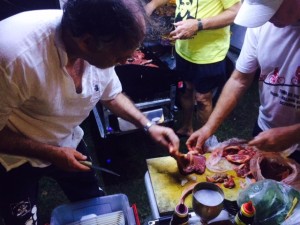 Portioned controlled to perfection so no waste it was Sir Prince who took control of the knife to slice the Black Angus steaks.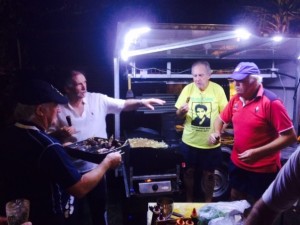 GM Kitchen Bitch seems very happy with the results as he food tested the Nosh to make sure it was safe for the Hashers to eat!!.so very thoughtful.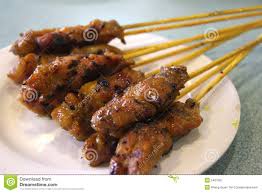 Satay beef cooked to perfection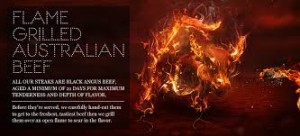 Aged Black Angus Steaks
Salads make to a recipe not a price
Drumsticks presented in fine silver paper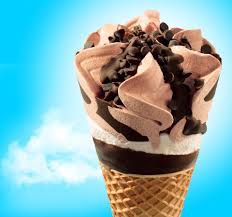 Resident food CriTic Hard On Who had 2 helping of steak OBVIOUSLY appreciated the food:
…………"Great Steaks and Salads food and at last back to high quality Hash basics"
Well done CIRCUMFERENCE FOR providing the NOSH WITH NO outsourcin except for assistance BY GM, Sir Prince and Jigsaw. a Great effort that helped to make this ANOTHER REAL hash night of true HASH nosh in a great location in the BUSH.
The Beachside CIRCLE
The GM appeared in Katmandu Hat, Hash Chains and with his trademark Moses Staff. He advised all that the mystery acting RA would be Sir Prince Valiant due to absence of Caustic who is on a hunting expedition in South Africa.
The GM immediately asked all the returning runners to the circle
Flasher commented "this bunch of idiots lining up claiming to be runners and no FuC#@%* gifts for GM"
DD to:
Circumference for the Hare and excellent quality Nosh
Returning Runners Kwakka, Jigsaw, Sir Slab ,Hard On , Missing Link ,Rockhard and Swindler
Missing Link for his expedition to Sri Lanka for 1 month
Visitor and as returning runner Exelpet who was last seen as our Booze Master
Sir Rabbit presented doctors certificate to save himself an icing as his kidney stone is still moving out
Nasty ,Swindler and Flasher for going away next week
Brewtus for laughing in the circle
Ferrett for his comments to GM
Useless Shirt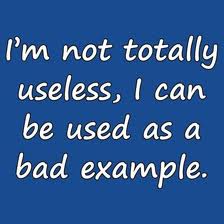 Yes…still with Truck Tyres who is once again smelling the roses in Tenterfield.
Where is the Prick of the Week?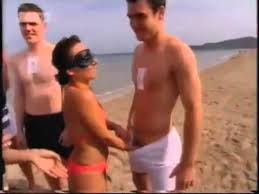 The last recipient of this prized possession was Aussie and is still with him?
Hopefully will be there next week ??
Gift for GM
Once again with tears in his eyes saying "the best gift so far this year" the GM accepted an amazing gift and thoughtful gift from Jigsaw. This highly prized possession of a baby chicken laying an egg was handed over to the GM who immediately hung it on his Moses Staff with all the other crap that hangs from it . Well done Jigsaw for a thoughtful gift.
GM Report
GM advised next week run will be by Aussie!! Our GM has personally promised to assist to ensure that this event would have first class Nosh
End of CIRCLE …….by FERRETT @ 8.30 pm
Runners: 26