Run: 1956
Date: 27/04/2015
Location: Paradise Point
Hares: Ice Man
Runners: 36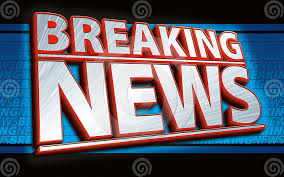 Anzac Day Road Bike Victim Recovering in Hospital.
It appears that Nasty was the victim of a malicious act by a person or persons unknown who placed a large rock on the road to slow down speeding cyclists.
Missing Link who rode passed the large rock at great speed in excess of 35Km /hr. failed to notify 2 Dogs who was following close in his tailwind at 34km/hr. and about to pass him.
It appears that 2 Dogs who was so busy concentrating on passing Missing Link who was hot on his back wheel at 40Km/hour and about to pass them both, that he failed to notify Nasty of the impending disaster as 2 Dogs swerved to miss a rock that has been strategically placed on the bikeway.
2 Dogs returned to scene of the crime after the ambulance conveyed the damaged and shocked Nasty to the Gold Cast hospital to collect the evidence. He proudly displayed the evidence at hash on Monday night after telling the police he would return it to them after the hash meeting as evidence.
The lead police investigator has several suspects including Sir Slab who some unknown person alleged had placed the rock on the bike trail when he set the trail. It was alleged that Sir Slab was concerned that the Warriors would catch him! However this claim has been rejected as hearsay by the police with no foundation whatsoever and was totally dismissed.
It appears that Warrior Nasty may be out of action for a few days with major shoulder reconstruction surgery. We hope he gets well soon and returns to join the Warriors.
It was reported by the reliable and honest 2 Dogs that as Nasty hit the ground he was heard to scream out  "Bellatores vivat "!!!! (or in English …Long Live the Warriors )
                     ….the rock                                                                     …. the injury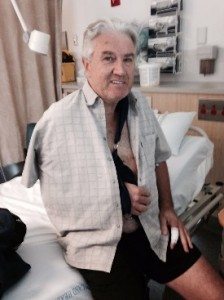 …… the victim
Magician Survives Earthquakes in Katmandu
Hi There y'all'
Both Down Under Wear and Magician are fine here in Nepal. Been here for 2 weeks now and just finished the Annapurna Base Camp trek. All our HASH training has been put to good use. Helping out where possible.
Pretty chaotic here at present but life moves on pretty quickly here in Asia. Choppers continuously overhead, Not a "Danger WET FLOOR" or any red and white tape or any signs "Beware of large crack in the Ground" or any OH&S personnel to be seen anywhere. Pot holes and cracks all over. Just deal with the situation in front of them. The earth moved yet again last night at 2 am-at first thought it was Magician's guts which have been playing up lately.
On a lighter note Magician, and oh yes DUW, survived the night in the local "garden" with the farmyard animals and itinerant Trekkers (remarkably similar to a Hash circle) and has just made a meal of a whole boiled egg.
Upside is the kg's are just falling off Magicians now athletic frame and Michelin man has now morphed into a prime Thai cage fighter.
83 kg down to 77 kg and still trending down.
Plan is to fly to Paro in Bhutan tomorrow but highly unlikely so plan B is another trek in the Annapurna region getting there on the 10 hour local bus again. Can' t leave for 2 more weeks so "The journey continues"
All that HASH training has been put to good use. Oh yes the Gorka beer is warm.
ON ON   Magician & Down Under Wear
Editor Update:
The Magician has pulled it off again!!! It appears now Magician & Down Under Wear will be evacuated from Nepal by RAAF Hercules to Vietnam, There he will be able to make full claim on holiday expenses under insurance so he can return at a later time to resume his vacation.
Run 1956 by Iceman at Paradise Point
27 April 2015
[fvplayer src="http://www.goldcoasthash.org/wp-content/uploads/run-1956.mov" width="568″ height="320″]
38 hashers including 2 visitors eagerly waited for the run information from Iceman. No one was really sure the complicated run information from Iceman but he was overheard to say as he had spent all day in the kitchen preparing gourmet food for the nosh instead of outsourcing the food so he had minimal time to set the run.
As you can see from the video the explanation is almost impossible to understand!! See if you can work it out how you can have 3 different runs?
Once again those excited words from Iceman as runners and walkers got instructions "to go that way for more detailed instructions??"..work that out!!.
The Run
The Runners with detailed instructions from Iceman then raced out in front of the walkers lead by Bent Banana and Botcho.
This may be for first time in recent Hash Run memory that Iceman's plan may work as the runners and walkers grouped up under the bridge.
A slow amble across the road by the runners as they discussed what the arrows really meant .Then On On was called by 2 Dogs who seemed to know the trail.
Sir Black Stump reported it was a well-marked run with lots of chalk and a very good run even though it was short.
2 Dogs as always providing highly accurate information advised that the run was total of 4.84 Fu*#@ up and not the 9.6km promised by Iceman. He did note that most did not find the true trail so set and well hidden by Iceman.
He commented on the double arrows, false trail, check, false trail check, check back and here they were 4km later at the trailer.
For a change the detailed instructions and so called well-marked trail resulted in a total run Fu#%@ up.
Well done Iceman for unique run in the local area where many runs have occurred but no one could follow your trial.
The Run Finish
The tight finish with Ballpoint, Brewtus, Bent Banana, Josephine, 2 Dogs, Circumference, Rug, Fanny Charmer, Veteran, and Botcho in with the group of returning runners all at the same time.
Sir Black Stump maintained he did the whole run and that's why he was back so late..he did note that he could not find any arrows so really not sure where he went !!!
Due to the short trail and good location no one was lost and within 28 minutes all runners were back to the trailer and to start finishing off the free red wine supplied by Sir Rabbit to celebrate his 1600 run. Great effort Sir Rabbit
The Long Walk
Shat reported that it was an excellent walk and for the first time in while that a walk had been actually well marked. Show Pony back on deck at last enjoyed the walk guided by Hard On, Slug, Rockhard, Sir AH and Swindler. Hard on immediately had a red wine as he viewed the missing Anaconda Sign.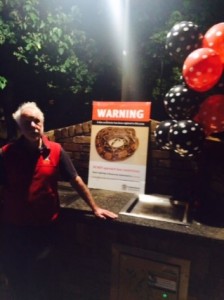 The Winners Circle
The RA quickly got the Nosh Chef & Hare Iceman into the circle for a detailed explanation of the run and nosh.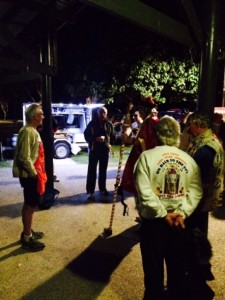 The Losers Circle
"If only I could have run faster" commented Josephine "I would have beaten Botcho and 2 Dogs but I think I was the only one who did the full run.
The Great Aussie BBQ by Chef Iceman
At last a return to Gourmet Food as Iceman thought he looked set to take the pole position as Nosh of the Year.
Iceman advised that a large amount of pre hash food preparation was involved with top quality food, food quantity, presentation, time etc etc The Nosh had been produced as a result of his working all day in his kitchen.
Will this be the Nosh of the Year?
Grand Master Kitchen Bitch obviously very impressed at the quality and volume of the Nosh took over from Resident Food critic Rug and personally inspected each dish in great detail and gave the positive THUMBS UP!!
The Great Aussie BBQ Trailer Nosh Menu
Snacks from Aldi with dips to feed the immediate hungry ..great dips
Fresh Ham on Bone topped with mustard on French bread. delicious
BBQ meat patties & fresh bread rolls ..cooked to perfection
Fresh Chips & Fresh Salads .fresh and delicious
Pavlova, ice cream cones with sprinkles. ..sensational
The GM advised that Iceman well and truly produced the Nosh goods and produced a Gourmet Nosh. But for sure it was well over budget so thanks Iceman. Great to have back the Trailer Nosh Gourmet Food Quality.
Well planned and organised Iceman as the BBQ was excellent.
Josephine who has a the copyright on burgers did comment that "you should not have meat in the burgers"
The Circle
The group circled around the GM and Caustic in anticipation of another pending announcement with more freebies for the Hash members at the AGPU.
No such luck for RA Caustic once again immediately gave orders to the Booze Masters to prepare warm ice for any major or more particularly minor misdemeanour.
Icing Vengeance at its worst as RA Caustic goes into his final icing rage
Iceman ,You did not deserve this after the efforts of great Trailer Nosh and good run.
GM gave recognition for 2500 runs. Sir Rabbitt 1600 runs and Ferrett 900 runs with a DD. Then followed more DD
Visitors Opium and Blow Job
Returning runners Swindler & Crocodile
2 Dogs for assisting Nasty after the fall into the ambulance
Iceman for telling a joke " it was a Fuc#%*..ing good run"
Rug for poor behaviour at Splinter Lunch
Link for failing to warn 2 Dogs of the Rock
POW
Awarded by Fanny Charmer to Iceman after a great deal of deliberation and listing several deserving recipients who were not attendance the finally was left with only Iceman for giving a very short run. (Iceman, you did not deserve this !!!)
GM Report
Next week run by Sirs.another great run guaranteed. Need your GPS as in the bush
Bent Banana advised that Thirsty Thursday Weekend run soon as a …"Hash Weekend not to be missed "camping out at Canungra.
The GM advised that his missus attended her first hash function last weekend at the Anzac day bike ride. Thanks to Hard On advising Mrs KB of the Mankini episode it will also be her last Hash function.
At 9.20 after much laughter & frivolity it was the those familiar words of Ferrett that echoed over the assembled mob ……… End of CIRCLE