Run: 1957
Date: 4/5//2015
Location: Carrara
Hares: The Sirs
Runners: 39
Run 1957 – The Sirs Run. Gold Coast Hash Birthday. It all started just around the corner from tonight's location, way back in 1978.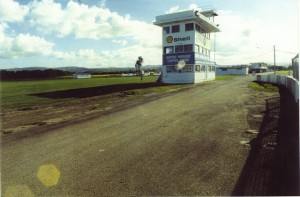 The #1 run venue has long gone.  Surfers Paradise raceway
The Sirs Run…it was always going to be a special one, wasn't it? All of us had fond memories of last year's Sirs Run from Sir Rabbit's house and the delectable (no, I am not kidding!) English sausages that he provided. Apparently, and tragically, I am assured by Sir Rabbit that they are no longer available.
Tonight's run started with the hash trailer having to be expertly manoeuvred through the gap in the fence and into the park off Hickey Road at Carrara. There were millimetres to spare and as yours truly was at the back of the trailer, pushing on it so it didn't roll down the hill at breakneck speed, several other hashers were at the other end pushing it down the hill!! Nearly a hash debacle with yours truly almost squashed under the trailer.
The troops gathered and Sir AH proceeded to put up a giant galvanised pipe flagpole, strapping it to the lightpole above the barbeque area and shorting out the light in the process! Luckily we are totally self sufficient for power with the hash trailer.
When the trailer flaps were put up we all looked on with astonishment at the sight of the new tables and chairs. Gone were the crappy black chairs that were all falling apart, all replaced with beautiful new red padded chairs and mould-free tables!!
The RUN:
A record number of runners set off for a run that had been set by Sir Slab, who swept the trail on his mountain bike, ensuring that we did not stray too far off course. As there had been about half a metre of rain over the weekend, we knew we were in for it in terms of mud and other shiggy. We were not disappointed and the run went through some quite treacherous territory, but luckily no mishaps by Miscarriage or other runners. All got back safe and sound, albeit a little soggy and muddy, but all agreed it had been a great run. Two Dogs and yours truly clocked it at 6.5km. Sir Blackie must have found the run boring because he engaged in frivolous shenanigans, including stomping past runners in the muddy bits, throwing up mud and slush all over us and on several occasions also trying to shove runners in order to throw them off balance and fall into the mud. Luckily nobody succumbed to these vile tactics!!
There were a record number of runners tonight, approximately 20!! Congratulations guys and nice to see the less than frequent runners such as Arseup, Cumsmoke, Pile Driver, Latrine and Seedy running with us tonight
A last comment about the run was that it kept the runners together, including, unbelievably…Flasher!! At one stage we all thought we must have been off trail and on one of Flasher's wild goose chases as he stayed with us all the way!
The walkers all complained that Shat had gotten them totally lost in the backblocks of Carrara, at one stage being heard to mutter the words "Errr…I think I've got the map upside down!!". Four hardy souls apparently did the full walk…hmmm…so 4 walkers plus 20 runners equals 24…take that away from the 39 attendees tonight and that makes 15 others who probably just hung around and drank all of our red wine!!
The NOSH:
The sirs did NOT disappoint…starters were some lovely spring rolls and dumplings, all fried to perfection in the hash woks. Sir AH walked around serving everybody and making sure we all got some of the goodies. Main course was a lovely Thai style chicken curry with vegetables and bamboo shoots and with rice cooked to perfection, although somebody had the audacity to complain that it was "gluggy"…don't listen to them Sir Rabbit..it was great!…as were your sausages last year! Latrine was effusive in his praise of the Nosh…what a gentleman! Sir AH excelled himself in the preparation of desserts…lovely jelly and fruit cups topped with flavoured yoghurt…and Mrs Charmer enjoyed some of the left overs that I took home to her!
The CIRCLE:
First things first….Weekly was called out and immediately iced for telling the GM to fuck off! Argument ensued for several minutes as to why Weekly considered it necessary to have uttered those words but this won him no favour and the ice it was! Visitors and returning runners were welcomed and the GM was showered with gifts, however undeserving and unappreciative he may have been!
The GM announced that due to the black hole in hash finances now being so huge due to the purchase of the new hash furniture, the Paris trip for the hierarchy is now cancelled.
Congratulations were given to all the Sirs on their great run and nosh…well deserved it was too!
Returning runners this week are Flasher, Pile Driver, Seedy and Miscarriage. Visitors are son and step-son of Sir Prince and their friend Matthew from the UK. Welcome guys and a well deserved down-down for bringing our average age down considerably.
Mme Latrine was called out to the front and castigated by the RA for his antics at the Splinter Lunch, essentially draining everybody else's bottles of wine! The icing that he received was however not for that but for his deviant act in seat-sniffing…those of you who are interested can obtain more details from the RA at your leisure…the details should not go into print lest they offend some of our non-hash readers!
Truckie was, as usual called out to the front and iced, this time for sending a stupid email to Missing Link about the car rally. It is in the carpark of Outback Australia that we are meeting, is that perfectly clear Truckie??
P.O.W passed from Iceman to Flasher this week, for the offence of breaching carpooling protocols. The Useless shirt has gone walkabout with none of us having any idea who has it!!
Moonbeams performed his usual duty at the END OF CIRCLE. (He actually tried to do it about half an hour before circle closed!)
I think that is all I can think of this week…
Signing off for now…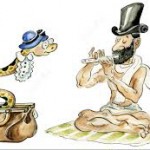 Fanny Charmer
Substitute to the Substitute to the Hash Scribe