Date: 15/06/2015
Location: Burleigh Heads
Hare: Elvis
Runners: 27
The Annual Hash Relay is on our door step this year. Truck Tyres and your Hierarchy needs numbers for our team!!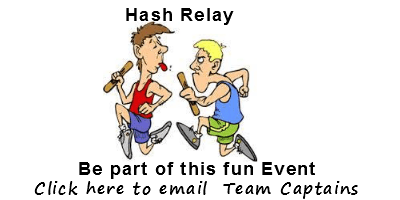 Run 1963
Well, here we are at the second run under the new hierarchy and what a night was had by all!
First up, I must express my extreme gratitude on behalf of all of us to tonight's hare, Elvis, a soccer aficionado who is normally otherwise occupied most Monday nights with matters concerning the round-ball sport. At extremely short notice and fortunately having a night off from his normal activity, he volunteered to set the run, conditional upon being allowed to make it a "restaurant run", with the nosh being had at Silk Thai restaurant. All scepticism about restaurant runs can be put aside gents, as this one was a corker, with a reasonable cost-per-head, no corkage and the hash being allowed to sell its own grog as per usual. More on the nosh later…
The Run and Walk:
Due to the lingering after-effects of having contracted the lurgy on the Hash Car Rally several weeks ago, yours truly did the walk rather than the run tonight and if that was anything to go by, the run must have been a challenge, because the walk certainly was!! Another notable walker who normally runs was Caustic, who is nursing a buggered knee.
Up and down hills, through bushland and derelict warehouses, the walk had it all, including getting us all lost at one stage and in danger of falling off the edge of a cliff. Elvis, you have done yourself proud being able to set the run/walk and keeping us all safe and without the need to cross any of the major roads that surround your lovely suburb.
An added bonus for both runners and walkers was the drink-stop half way up the hill and in the bush! Here we were all warmly greeted by Elvis' neighbours who delighted in playing host to the hashers and keeping us all imbibed with glorious liqueurs left over from Elvis' 50th birthday party some five years ago! The Zambucca was brilliant and the other blue stuff, whatever it was, also wasn't too shabby. After that little break off we went up the hill, only to then get lost shortly thereafter…must have been the after-effects of the alcohol.
There was one criticism, that being that Elvis must have had a shortage of chalk as the arrows were tiny…we're getting old mate, we can't see arrows that are smaller than 30cm!!!
The Circle:
Due to the restaurant not having dinner ready for us yet, we broke with tradition and had the circle before the nosh…what must the punters nearby at the service station have thought of 27 grown men standing around as we sang our down-down ditty several times over at the top of our voices…sure to be escapees from the local lunatic asylum!!.
Our new GM had some significant announcements to make at the start of circle:
This year a new democratic order will be introduced to the hash but more about that later (I can reveal that some of it has to do with awards such as Prick of the Week but I don't want to steal the GM's thunder!).
The good news is that your new caring and financially conscious committee has kept Booze prices & Run Fees the same!!!
The Royal Fatwa on Icings has been declared Null & Void and the outgoing committee had better get their backsides ready!!
The GM wants to "add value" to the Hash (doesn't he mean "personally profit from all of this") so this year all gifts to the GM will only be accepted if they contain Gold, Silver or Precious Gemstones – However, poetic licence will be allowed!
This year we want to encourage all Hares to make their run special be it a Birthday run or otherwise. We want you to use Internet research to find out something special preferably on your Run day or near to it. For Instance you could set an American Independence Day run or a Mexican National Day run. Nothing too elaborate – for example it could be as simple as wearing the colours of the flag if it is Botswana National Day of Independence. If hares make an effort and provide food relevant to the occasion they may be awarded an extra $1 per person bonus as an incentive at hierarchy discretion.
Most important, team up with another hasher so that at all runs there is at least one Hare who goes on the trail (we're sick of all you pricks getting lost all the time!).
Finally we have decided to discontinue the Hash Hotline as our excellent website maintained by Botcho provides the information visitors and new runners require (this is the 21st Century…who calls a bloody hotline, unless it's a sex hotline!)
Down-Downs:
First out for a down-down was Elvis for being the hare. Miscarriage also got a down-down for being a birthday boy and as "one birthday boy drinks all birthday boys drink" back out came Elvis for another one.
The next down-down was for Kitchen Bitch for having nominated an incoming committee in the full knowledge that most of them would then proceed to disappear overseas as soon as they were nominated. Good one KB!!
Poor old Sir Slab copped the next down-down for the cycling debacle that occurred on the weekend…who would have thought that a handkerchief could cause a $7000 roadbike to be a total write-off!! He copped a second down-down for driving through the window at the front of his carport whilst he was making sure that the new roof-rack cleared the ceiling…oops, the bumper bar didn't clear the window!!
Back out came KB for another down-down, this time for having the audacity to get himself a fulltime job and turning up to the hash in the work BMW with all its advertising on the sides.
Miscarriage copped a down-down for running off into the wilderness of Carrara with Bent Banana's pretty young Japanese house guest on the pretext of accompanying her on a run but obviously having other thoughts on his mind. Whilst out in the circle, Miscarriage did highlight that our hash membership is…well, age
Last but not least, Blackstump got a down-down for stashing the family jewels in the lingerie drawer at his daughter's place…that one passed me by!! Some of these reasons for down-downs are getting pretty feeble!
The Nosh:
Only one word can describe the nosh…brilliant! Silver Thai had us all seated, with us taking up the whole restaurant and three lovely dishes came out per table, along with ample rice…tasty and ample quantity….so much in fact that some of the dishes on some of the tables were not finished…quite a contrast to a recent event that shall not be named!!
Wrap-up:
Some sad news…Moonbeams is not travelling too well at the moment with radiation treatment having commenced to a bone behind his eye..he'll need 15 doses, so all our best wishes are with him at the moment…as they are with Croc's wife, who also is not travelling too well.
Finally, your trusty On-Sec is going to be away for the next two runs doing the charity ride from Cairns to Karumba and I would like to thank each of you who have so generously donated to myself and Victoria to get us well and truly over the line on our fundraising target. Thank you Caustic for volunteering to do the words for the next two weeks.
On On
Fanny Charmer
On-Sec