Date: 10/8/2015
Location:Parkwood
Hare: Josephine & Sir Rabbit
       Runners: 30
The Run:
Well, I had been told by our esteemed GM to expect "a cracker of a run, because Josephine always sets great runs!"….and with that expectation in mind, and with that thought in mind, there we were, gathered at Chez Josephine's in the depths of Parkwood, with Josephine gathering all and sundry for the run briefing… "tonight's run is a back to basics run..no hills, all on road…I believe that in summer you do a bush run and in winter you do a street run..so there you have it…now head off in that direction..it's clearly marked and it's about 6.9km all the way around".
Full of confidence and to the familiar sounds of "on on", off into the wilderness we all headed…to the first bloody check…where the faster ones went off in various directions and we then heard the cry of "on on" several times, so off we headed up the hill..for what seemed like miles, only to be confronted with an on-back…and mutterings of "the prick..he ought to be iced for that" given that there were at least four or five arrows before the false trail marker. No hills!!! What a load of old cobblers!! I thought Parkwood was relatively flat until tonight and I didn't know there was this much bush. Josephine is never to be taken at his word again when he describes a run!!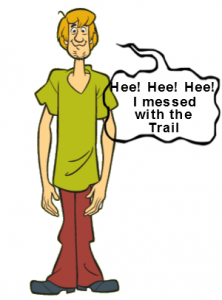 The various checks served to keep us all roughly together, at least at the start, but towards the latter stages of the run, something weird started to happen and down the bottom end of Napper Road, near Woodlands Drive, after having done two useless loops, some of us realised that somebody was either playing a bad joke on us, that we had followed arrows from another Hash run (it turns out the Wednesday Hash did a Parkwood run last week…and there's been no rain), or the third option…somebody either in or out of the Hash had sabotaged our run!!!!!!!
I have no idea how anybody else found their way home but yours truly, Lurch and Caustic followed a double-headed arrow down Woodlands Drive only to find that there was nothing else by way of markings! "Where the fuck are we??…Molasses, have you got a phone with GPS??" asked Caustic. Luckily I did have such a device and luckily Lurch knew how to use it!! We managed to find our way back to the start of the trail and backtracked to Stadler Court from there…thank goodness for the two hubcaps on the side of the road that yours truly had spotted earlier on….more about them later.
In all a good run…..Josephine must be dyslexic though…it was more like 9.6 than 6.9 km, but not entirely his fault due to one of the three reasons as listed above.
The Nosh: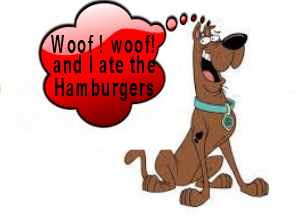 What is there really to say about the nosh tonight other than…hahahahahahahahahahahaha!…ten thousand comedians out of work and Josephine's trying to be funny!! What do I mean??? Well, the "Hobo Soup at Josephine's Soup Kitchen for the Homeless and Unemployed" should have given a clue..the nosh consisted of SOUP for entrée and mains…not different ones…just an average of five servings for each of us from the large pot! To give Sir Rabbit, who had done the soup, his due credit, it was a damned nice soup and there was certainly plenty for each of us to have about five cups of it. The garlic bread was, by all accounts, also bloody lovely…those of us on the SRS diet of course refrained from indulging in the white poison.
With the dessert, Josephine should be taken at his word…it was certainly a "back to basics" affair…chopped bananas (about three of them) and a litre carton of custard!…when the three bananas had been consumed by the first three or four people in the dessert queue, another banana miraculously appeared!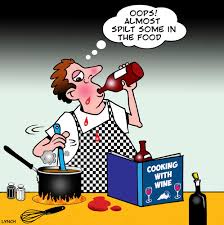 Caustic was heard to say "thank goodness Macca's up the road will still be open when we're finished here!"…and Josephine then said "if you're not satisfied there's a Red Rooster down there too!!" Botcho piped in with "I think there's a 7/11 that's also open!". The best comment in my view though was that of Bent Banana… "it took two people to do this???"
In defence of the nosh/budget issue, Sir Rabbit has asked that I include the following…. "[the budget] allows for a substantial amount of calorie controlled main course soup with meat & lots of vegetables and dipping bread , or a somewhat budget controlled weaker soup followed by some sort of budget main course, desert is optional but expected by some".
The efforts of our booze-masters need to be acknowledged ….these guys are the unsung heroes in my humble view…Brewtus and Weekly always have it all ready for when we are back from the run…then at the end of the night they pack it all away again, never a whine, never a whinge…I am sure I speak for all of us when I say…THANKS GUYS!!
The Circle:
The GM commenced proceedings by announcing that today was "World Laziness Day" which of course would explain the food!
Bluecard was asked for an assessment of the walk… "we were on the walker's trail for about 400 metres then we turned back"…great effort guys!!
Despite the possibilities as discussed above regarding the confusion with markings on the road, Botcho announced that in his learned view, some prick from within the Hash had sabotaged the run…of course nobody admitted to that one! Josephine declared that the double-headed arrows were not his!!
On the subject of the Nosh, Botcho declared "this is the most expensive nosh of the year!" and somebody else said "the pricks aren't getting $120 for that, are they??"
Bent Banana commented that it was lucky that KB was not here tonight as he would have torn strips off the "chefs".
Best comment on the run…Miscarriage.. "I call this the Forrest Gump run…you never know what you're gonna get!"
 The RA came out the front and announced… "I'd ice Rabbit for the nosh but he's my driver and I want to get home tonight!".
There were several Down-Downs for various reasons tonight and I won't bore you with the details..if you were there you know, if you weren't you don't give a toss, but I cannot leave it without reporting that RockHard (aka Rocky to his inner-circle!) well and truly got picked on tonight for his antics post-run last week!! The Prick of the Week was passed with great glee from Circumference to "Rocky"…as much as he tried, Circumference could not think of a more worthy candidate!! The only reason "Rocky" did not get the Useless shirt tonight is that it's current holder, Truckie, had, in his usual useless form, left it at home in the wash!!
The last comment on the "Rocky" saga last week…by way of a charge from the floor by Miscarriage against Caustic for opening his car window as he drove past the scene of the devastation and started singing "lucky..you're with AAMI!!".
 Oh, I can't help myself…the FINAL note on "Rocky"…an award of the two hubcaps..again for the devastation caused last week!!
 End of Circle……this time Josephine… "ok, you can all fuck off now"!!
On On
Fanny Charmer
On Sec
ps: note from the editor: Sorry Hares!! I Just had to put a few cartoons in with Fanny's words. All in good fun. LOL!!!