Date: 5/10/5015
Run: 1979
Location: Burleigh Heads
Hare: Truck Tyres
       Runners:22

Leave a comment or post a picture
Tonight was Truckie's birthday run…happy birthday mate…72 years and going strong!!!…and thank you for the birthday Crownies which were greatly appreciated by all.
The Pre-run and run:
The instructions on the website were as follows:Park on DUNLIN DRIVE in the vicinity of house No 116 to 120 (house numbers are on the kerb), at the entrance to Burleigh Cove estate. Walk over the pedestrian bridge beside No 116, to assemble on the lake shore reserve behind my place. Note: Please DO NOT try parking or entering from Beachcomber Court…
 ….sounds simple enough, doesn't it? Well, Sir Prince Valiant and I were crossing the bridge when we spotted Mme Latrine down in the Park… "bloody hell, it's amazing the people you see walking around here, isn't it Fanny Charmer?" says Sir Prince as we merrily continue walking along the path after the bridge….and only after we'd gone some 500 metres did someone yell out "on back, on back you blokes!". Apparently it was Mme Latrine's job to shepherd us all into the park so we could find Truckie's place…not just stand there looking at us as we headed off into the distance, expecting us to be able to magically read his thoughts!!!
Eventually we were guided by Mme Latrine to the noisy gathering in Truckie's backyard where the run description was given by our hare… "this is a suburban run and it's hard to find much bush but I've tried to give you as little bitumen as possible"..and he then produces a bag containing a piece of chalk, a roll of toilet paper and some flour…. "now, there's a bit of this (holding up the chalk)….there's a bit of this (holding up the toilet paper) and there's a bit of this (holding up a handful of flour)…and the run is on single point arrows and the walk is on double point arrows!!". Now that we all knew what toilet paper, chalk and flour look like, off we went into the wilderness of Burleigh Waters.
This week your faithful scribe decided to throw caution and his dicky leg to the wind and did the whole run and it was a good one as it meandered through the wilds of Burleigh Waters and gave us a look at some interesting industrial estates, including the back of Bunnings and the Billabong warehouse and gave us the choice of a "drain crossing" where we could get our feet wet or for those of us scared off by the prospect of that, either wriggling under a fence or climbing over it, the latter being my choice and nearly coming down on Sir Blackstump as we was wriggling through underneath me!
The run was very well marked indeed with clear chalk marks at reasonable distances, toilet paper hung in obvious places and little dots of flour leaving no doubt as to the course to be followed….now this is how a run should be marked…good onya Truckie!!!
The Nosh:
 Truckie has excelled himself, and being obviously ably assisted by Kitchen Bitch, impressing us with a fine three course delight! First off we had some nibbles consisting of what looked to be honey soy chicken…devoured by some and leaving me wondering how on earth they were going to fit in the other two courses!!!
Mains was some great chunks of beef that were, well…let's say ablaze on the barbeque at one stage…with Truckie assuring us that incinerating the meat is the "in thing" nowadays in haute cuisine circles… "it's Brazilian style beef" we were assured!. This was served with sides of left over veges from last week's run…not bad at all! Sweets was tinned peaches with custard and for those lucky enough to get in before it was all gone, some lovely pudding! In all, a great nosh and you've kept up the standard Truckie (and KB!).
The Circle:
First victim out the front…our hare Truckie…complemented on the run, which according to Flasher's new TomTom watch was exactly 5.84km in length..to quote SIR Botcho… "you managed to find a great deal of bush out her in the wilds of suburbia!". A well deserved down-down for Truckie.
Second out the front…the assistant chef KB and when asked if he did a run or a walk was adamant that he did do a run…"I ran down the bottom of the hill and back up to Truckie's back gate!!"… a distance of around 5 metres! Another well deserved down down for his efforts on the nosh….and apparently it was SIR Botcho who gave some tips on the nosh, telling KB last week.. "just fucking freeze it, they won't know the difference"…and if we all get food poisoning this week we can all blame it on Sir Botcho because the freezer didn't work for about three or four days, but he deemed the left overs to be OK to serve up tonight.
Two returning runners tonight…Sir Blackstump…back from setting world records again in the USA… "it was a shit trip..customs in LA took all my bike bits, including my latex spray!!"…what on earth could that be for Blackie???? In total contrast to Blackie's fitness adventure trip, BlueCard was in Canada touring all the cafes! BlueCard, unlike Blackie who presented the Acting GM with a bronze medallion, had no gift for the GM, only a yarn to tell…apparently he mistook a "personal hygiene cream" for women to be body lotion, which he smeared all over himself…when he read the label, in French, it is designed to make women's "nether regions" smell nice…roughly translated into English… "designed to make a "c### smell good" he told us…"so you can't call me a dirty c### anymore!!"…hahaha..says who??
Circumference was called out the front to take all the punishment on behalf of himself, Josephine, Sir Rabbit and Sir Two Dogs, all for having left poor old Croc behind last week! They will probably all be iced over this next week.
Miscarriage was called out for a down-down for coming to Hash last Monday, it being his wife's birthday… "at least I put Hash first!!"…good to see he has his priorities in order.
Last but not least ……the USELESS award to this week was passed from Truckie (how could he forget it this week…he's at home FFS!!) to none other than……Flasher!!!!!!! And for the record, let it be known he thoroughly deserved it!! Not only did Flasher abuse Truckie's old mate JukeBox (from the Sydney Larrikins some years back), and in the process, guilty of offending Sor Botcho's wife Cappa with his abusive language last week – he was up to more of his old stunts on the run this week!!! When Flasher found himself led down a drainage by-way with an impassable drain on the one side and a 8ft solid fence (climbed by some, including your faithful scribe) enclosing him on the other side (and in the company of other front runners)  – he transgressed in avoiding following the set trail through the large but ankle deep wet underpass ahead, to avoid getting his tootsies a little wet and was last seen heading off-trail, scurrying like a water rat up the embankment and wriggling his way beneath the fencing.
Yes, Flasher thoroughly deserved his icing AND the USELESS award for each of the foregoing transgressions…(and thankyou Truckie for the inspiration for this little snippet!).
Next week's run…Oktoberfest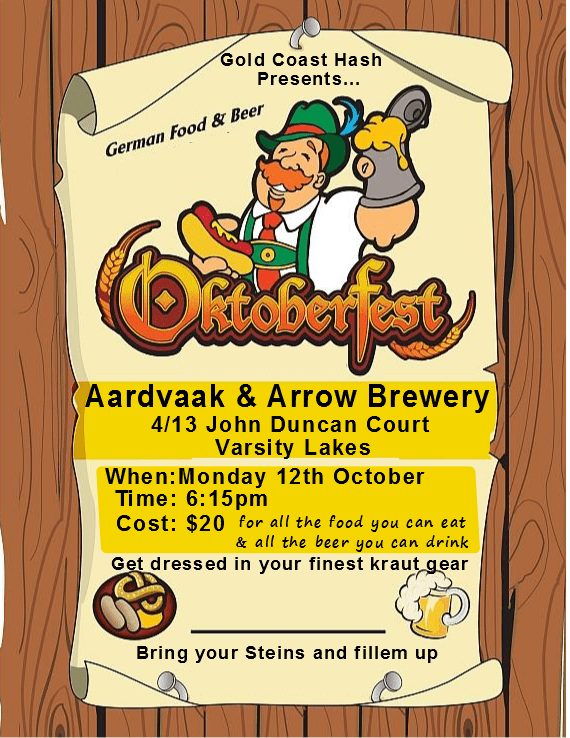 That's all for now folks!!
Fanny Charmer
On Sec.