Date: 19/10/5015
Run: 1981
Location: Main Beach
Hare: Hierarchy
       Runners:29

Leave a comment or post a picture
Vroom…Vroom…the V8 Supercars run…the Indy Challenge…the Sir 2 Dogs handicapping extravanza…call it what you will, but it was always going to be an explosive event, particularly as it was in the 4217 postcode, which could only mean one thing….Swollen Colon was gracing us with his presence and his pyrotechnics!!
…and of course, being a V8 event, what did the down-downs consist of….yep, bloody V8 vegetable juice!!!….blah!!!!!!!!!!!…thank goodness your trusty scribe was not called out the front for anything tonight!
The run:
My description of the run is based entirely on hearsay…as I did not do it, having stayed back to assist with the nosh debacle…where the F### did all the cooking utensils and other shit that lived in the trailer get to???? The run apparently was predictable but enjoyable, with the added twist this year of security personnel on the track telling the runners to get the F### off the track! The early arrivals back at base camp obviously cheated, having not conformed with their expected handicaps. Cheating bastards!! No names though…don't want to offend any sensitivities. In all, Sir 2 Dogs, you've excelled yourself with a good run on the track…it's become a yearly tradition so while the race is on the coast, let's just keep bloody doing it!!
The walkers track…yawn, yawn…who cares about the walkers anyway..yawn, yawn!!
The Nosh:
 Probably the best thing to do in terms of describing the nosh is to quote directly from some of the bon-vivants present tonight…
Circumference – "I won't have too many saveloids…I don't want to spoil the fine filet that is coming for mains!"
 Josephine – "Ahhh…just like the good old days…
 Swindler – "ohhhhh….it just doesn't get any better than this!!!"
 Swollen Colon – "definitely nosh of the year!!…but I've only been to two of them!!"
 Ferrett – "what's that green shit in that bowl??" (to which the answer "after-birth" came from some disgusting degenerate).
 Briefly, the entrée was saveloids (known also as Weenies or Little Boys in parts of the country" with dipping sauces and the mains was expertly barbequed steaks with lashings of side salads, dips, high quality wholemeal bread (not of that white shit!) and various other delicacies…topped off with two superb Woolies chocolate cakes…yes, definitely back to basics under this hierarchy but those of you doubting Thomas's please again refer to the comments above from various experienced Hashers!!
I do believe that thanks must go to Sir Rabbit and Sir Two Dogs for the nosh, but if I am wrong on this, I do apologise.
Basically, a corker of a meal….and to use those words familiar to many of you…..this is what we came here for!!!!!!!!
The Circle:
This is starting to get a bit tedious, isn't it…yet again, out the front were the usual suspects….Flasher and IceMan…for the life of me I cannot recall why, but there must obviously have been a good reason. A V8 down-down for these two….oh, and IceMan, I think you'd better get yourself a new joke book mate…the current one from whence you draw your material is shit!!
Swollen Colon was the first runner in tonight, but as described above, must have been one of the cheating ones as he was handicapped out! Bad luck!!
Sir Slab was declared the real winner tonight…being awarded all sorts of crap like a cap, a trophy and a shirt..he seemed really impressed with all of this stuff!
First walker home…Rock Hard…who took his V8 down-down and then exclaimed "what the shit is that???"….probably should have said "what is in that shit??"!
Swindler and Shat were called out the front for causing a crash on the Warriors ride that morning, resulting in poor old Kwakka ending up on the ground with a buggered elbow….guys…all Warriors know that you turn right to go past and perve on the exercising chicky babes…you do NOT go straight ahead!!!
Visitors from Cambodia Mr Ly and Mr Hun Phy, Miscarriage's contacts from Sihanoukville were dragged out the front and welcomed…Mr Ly was spared the humiliation of taking a down-down from his brand new running shoes!
Swollen Colon was dragged out as a returning runner…this is what happens when you only run in your own postcode!….but to ensure that he actually comes back soon, he was also awarded the Prick of the Week…good call there IceMan!!
Flasher then came out and tried to present the USELESS shirt to Jigsaw on the pretext of not taking sufficient photos in Circle!!! Jigsaw was able to provide proof that he had in fact taken sufficient photos and thus Flasher had to quickly rethink his strategy and promptly passed the shirt on to Sir Rabbit for no particular reason…you didn't deserve that Sir Rabbit, you really didn't!!
Sir Prince Valiant was called out for having his snout in the trough and despite being one of the more well-to-do Hashers, bludging off the taxpayer by attending a swanky publicly funded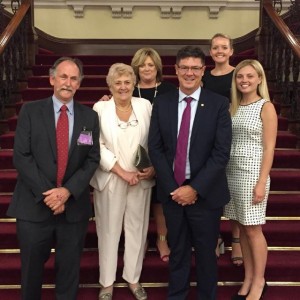 event.
Bent Banana graciously accepted a $100 donation from the Hash Heirarchy for the sponsorship of a young girl in Cambodia….do we get a tax receipt for that one BB??
As a finale, Swollen Colon, with his usual pyrotechnic flair, proceeded to attempt the destruction of a traffic cone…it went off like Mt Vesuvius!!
Finally, a big thank you to Circumference for agreeing to do the words for the next few weeks as yours truly is off to the Philippines..enjoy Halloween guys!!
Fanny Charmer
On Sec.