Date: 20th May  2019……………………………
Location: Palm Beach …………………………..
Runners:34…………………………………………..
Hare: NOW LOVED
Laguna Park, Palm beach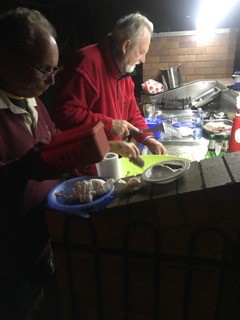 NOW LOVED directed the runners which included a mention of strolling and a choice of innumerable walks. Most of it proved to be a furphy although the Trail was indeed well marked.
We meandered beside the lake for a while and then along a grassy storm drain until our path was blocked by a roaring M1. Left turn towards Currumbin Creek. At the Creek WEEKLY and I resorted to Cunning Running which brought us to a XXXX sign and a delightful garden path on the other side of the lake. A little further and the lights of Home started to beckon.
Now Loved had subcontracted the Nosh to KB
Back at Home there was a spirited discussion taking place between SWINDLER. HARDON and others. Otherwise it was a quiet camp until the Runners started to straggle in well over time but seemingly happy with the RUN.
THE HARE appeared with cheese and biscuits which the Pack scoffed down happily.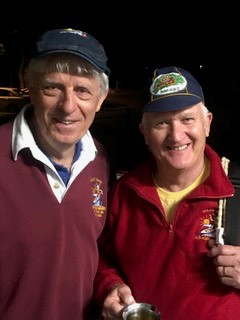 SIR BOTCHO and SIR RABBIT discussing what Knights discuss.
The GM – Below – took the stand and called the Circle to order outside the comfort of the large Council shelter we were enjoying.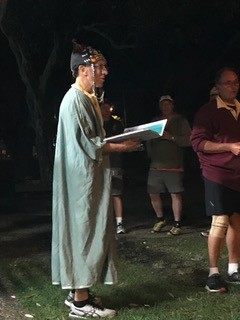 Returnees included the Hare, NOW LOVED, SLAB, back from Crocodile hunting, SWEATHOG, returning fro a World Tour during which he mislaid his travelling companion. However all is well, he has found her and re-installed in the ivory tower. MISCARRAIGE returned from somewhere – more later.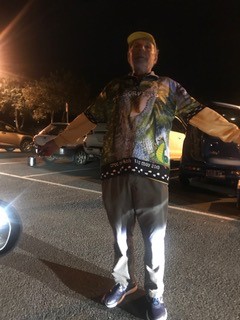 Slab got the T Shirt
ReadyMix was presented with his inaugural shirt.
It was reported that 810 made it to Nash Hash in the Deep North.
RA SPV AND MISCARRAIGE traded barbs about a series of very costly car crashes and losses in all parts of the world plus a story about a bar in Tokyo called:
ブロージョブバー
Burōjobubā
We would know it as
Blow Job Bar
Poxy told us a joke.
POW:
You will also remember that last week I was passed an un-warranted POW. As no one had made a large enough indiscretion to earn this Award I decided that it could wait until a deserving recipient came along. This earned me another Down Down. Whatever happened to Hierarchy Immunity?
The Circle was finally closed to a lack lustre rendition of our Hash Song again sung from new laminated song sheets. It is obvious some of our Members need Choir Practice.
Your Scribe – CAREFREE
Looking east along Palm Beach Avenue, circa 1928.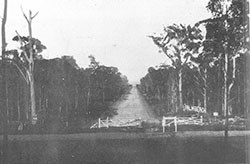 Palm Beach, 1936.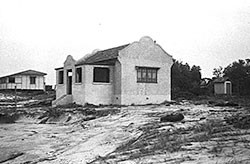 Henry Jordan, a Queensland parliamentarian and sugar planter living in the Logan area, selected much of the coastal land between Tallebudgera and Currumbin Creeks in 1873.
Gradually, Jordan added to his block. His property encompassed today's Palm Beach, Elanora, and Currumbin Waters.
Early European settlers
In a period between 1880 to 1890, a retired railway worker and early land speculator, William Wood, acquired 400 acres of Jordan's coastal block.
Wood had numerous properties in South East Queensland and only appears to have lived at Palm Beach towards the end of his life.
Before World War 1, a Mr John Crimp occupied a homestead and grazed cattle on Wood's property.
Travelling to Palm Beach
At the time, there was no surveyed coastal road so early travellers often forded Tallebudgera Creek and travelled past the future Palm Beach by coach or horseback.
Alternatively, they took the longer coach route through the hinterland to Murwillumbah and then to the Tweed.
The railway line linking Brisbane to the Tweed was completed by 1903.
Open surf bathing was now fashionable with young Australians and, for the first time, Brisbane people could travel with relative ease to the surf beaches of Coolangatta.
However, it was the age of the mass-produced motor car which provided both the potential and impetus for developing beach properties between Southport and Coolangatta.
Palm Beach estate
William Wood's property south of Tallebudgera Creek was purchased by the Palm Beach Company Ltd around 1921.
The first housing allotments were subdivided from Cypress Avenue to the foreshore and were available for sale after 1922.
One of the first families to build a home on the estate at 4th Avenue was the surveyor and development manager, Perc Ballard and his wife, Annie.
By 1925 there were twenty or so seaside homes on the Palm Beach estate. Potential investors and holiday makers were encouraged to stay at a boarding house (Anada) or lunch at tea rooms built by the company.
When the road bridges were constructed over the Tallebudgera and Currumbin Creeks in 1926, the Palm Beach Hotel, erected in the same year, was a convenient stopping place for passing motor traffic.
Word spread and many families from Brisbane, Ipswich, the Darling Downs and western districts of Queensland built their timber or fibro beach house or camped along the long sweep of beach.
Today, Palm Beach/Elanora is one of the most densely populated areas of the Gold Coast and in recent years the area has expanded to include new subdivisions, including a small section of canal development.