Splinter Hash Summer Golf Cup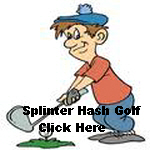 Run 1887
Date:30/12/2013
Location:Cascade Gardens
Hare: Missing Link
Runners: 25
Our GM was MIA again and Sir Black Stump always keeping an eye out for an opportunity stepped into position with his usual savoir faire (whatever that means).
Botcho lovingly referred to by the G M as a serial pest was called out for abusing the GM last week for not wearing Hash attire. Botcho quickly claimed immunity from down downs awarded by the RA (also MIA) for his services to Hash IT as webmaster. Blackie being one who does not take to being questioned informed him that his exemption was only an exemption from DD's issued by the RA. Watch this space for an Appeal to a Higher Jurisdiction.
Anyway "I have never seen the website" confessed Sir B.
Truck Tyres the Booze Master turned up at 7.15 and it seems he was still operating on NSW time.
KB turned up with an entre of smoked fish which not only a great surprise as the Nosh from the local Noodle In A Box take away did not turn up till 8.15.
Head Job back from the UK to build more luxury accommodation for new Australians arriving on cruise boats from Indonesia was in good form "best run to a pub and back".
KB at this point in his normal humble manner volunteered "great nosh so far".
Despite being a comp night Head Job and Manny got a DD for not having their name ticked off on Blackies list.
Truck Tyres got a DD for not only having a dud watch but for leaving his phone in Glen Innes so he couldn't call in his delayed ETA.
KB brought a charge but he was not sure if the guilty party was Lurch, Flasher or Latrine. All these "gentlemen" had interacted with his 21 YO Mare at the previous weeks Hash and now the Mare is in foal. Flasher being the only one of the 3 present took one for the team.
Flasher aka "you didn't deserve that" was awarded the POW for haranguing Circumference after the splinter lunch for his alleged lack of organisation and communication – code for "Flasher didn't bring enough money and had to take an unsecured loan"
Next Week's Run- Grassy Park Handsford Rd Coombabah compliments of Rug. BYO mosquito repellent.
HAPPY NEW YEAR
Blue Card