Date: 29th September 2017…………………….
Location: Costa O'doro Surfers Paradise
Hashers:32…………………………………………….
Run Pictures…………………………………………..
What more could one ask for? Great company, half priced menu, a few wines and eye candy!!
32 hashers attended todays lunch, it was great to see 3 Brisbane Hashes make the journey down to join us. Our Grand Master Blue Card even attended…what a man wining and dining just 2 weeks after open heart surgery, as they say "you can't keep a good Hasher down"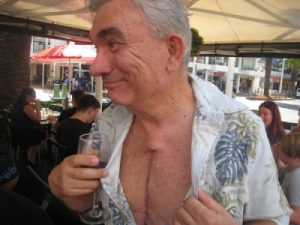 The wine bottles were nearing empty and the call was what now. Never fear Pizza had it in control and the Limoncello arrived for birthday toasts. It was then on to Lansdowne Road for a few after lunch cleansing ales.
Another great Splinter Lunch day was had by all that attended.
On On till next month