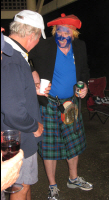 hello Hashers
As you know I took it upon myself to regalle myself in Scottish resplendent attire including the battle face blue "woad"
I ran out of time today and had to stop at Bunnings and grabbed a small can of blue paint which the attendant assured me was for face painting;I have just returned home after a quick pit stop at the Pizza 'Hut" and tried to remove the "face paint"
It didnt "remove "!!
After reading the can it was for painting "FACE BRICKS" !!!
Has anybody got any ideas how to remove without reverting to Hannibal Lectern tactics ??
I have tried soap,white spirit ,mild caustic soda,and paraffin swab !!
No good !!
Meeting with my bankers in the morning to try and get an extension to my default mortgage and would appreciate an early call;the earlier the better !!
On ON
Caustic